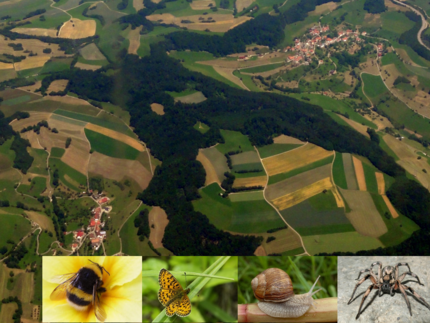 Contracting authority:
DFG
Duration:
02/2022 - 01/2025
Project description:
The human environmental footprint continues to grow with profound implications for global biodiversity. However, the consequences for local biodiversity are unclear. This is a serious concern given the intrinsic value of biodiversity and its importance for the provision of ecosystem functions and services that underpin human well-being.
The main goal of the project is to better understand the mechanisms driving local biodiversity. The project uses functional trait-based approaches to assess the mechanisms related to species dispersal and local community assembly from a pool of potential colonist species. It focuses on 6 taxonomic groups (bees, birds, butterflies, carabid beetles, gastropods, and spiders) in Switzerland. These groups have contrasted movement capacities and ecological needs which makes their comparison pertinent to understand how ecological strategies influence the spatial patterns and drivers of local biodiversity. We propose to use a large multi-taxa occurrence and trait database to (1) evaluate and map species potential movement among localities (potential landscape functional connectivity), (2) to quantify and map spatial functional trait shifts and identify their drivers, and (3) to evaluate the relative importance of dispersal limitations, and abiotic and biotic constraints and identify the species and functional traits associated with each of these processes.