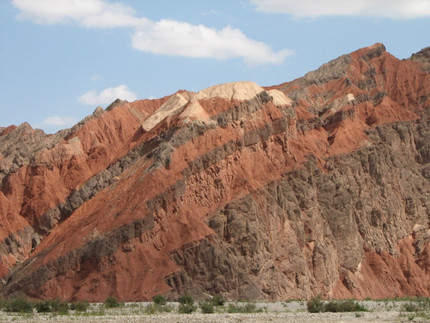 The main goal of the Thermochronology group is to use low-temperature thermochronology to quantify timing and rates of exhumation processes with a resolution of hundreds of thousands to tens of million year time scales.[nbsp] Events of interest are driven by both tectonics and surface processes. Our main techniques are apatite fission-track and (U-Th-Sm)/He dating. At the higher temperature range, we collaborate with other groups to apply 40Ar/39Ar dating and U/Pb dating of zircon using LA-ICP-MS. To date much smaller magnitudes of exhumation, we collaborate with other groups to apply cosmogenic nuclide dating. This data is interpreted in conjunction with geologic, topographic and climatic data with the aim of understanding the underlying tectonic history and the interactions between tectonics and surface processes.[nbsp] Significant projects have included examining source-to-sink relationships in the Andes using detrital thermochronology and constraining deformation histories in the Kyrgyz Tien Shan, the Chinese Pamir, and the southern Central Andes.
In a larger sense, the group's research has focused on basin analysis, sedimentology, thermochronology, regional tectonics and near surface processes, primarily in Central Asia, the Himalaya, and the Central Andes. At present, the two largest projects are in the Kyrgyz Tien Shan and the Chinese Pamir.
Please see the Fission Track lab page for the most complete list of research projects.