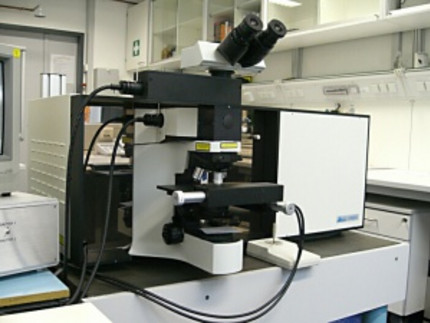 Raman spectroscopy is a non-destructive technique based on the inelastic scattering of light (Raman scattering) that allows microscopic examination of minerals and other materials. Excited by monochromatic light (laser), the specimen emits scattered light showing different frequencies than the laser light in the spectrum (Raman bands). The differences in the frequencies (Raman shift) contain vibrational information of molecules in the specimen, and by that of its composition and structure.
Schedule for the Raman spectrometer.
Reservations and information at georgii.kovalskiiuuni-potsdampde.
Instrumentation
Raman spectrometer LabRAM HR 800 (HORIBA Jobin Yvon), equipped with:
Multiple laser sources:
diode laser (λ = 473 nm)
air-cooled Nd:YAG laser (λ = 532 nm)
air-cooled He-Ne laser (λ = 633 nm)
diode laser (λ = 785 nm)
Spectrograph:
800 mm focus length
covers the spectral region 450 – 1100 nm
spectral resolution 1 – 2 cm-1 (in high resolution mode)
Detector:
Peltier cooled multichannel CCD detector (1024 pixel)
covers the spectral region 400 – 1050 nm
Integrated confocal microscope:
confocal microscope BX41 (Olympus) with white light illumination for observation in transmitted and reflected mode
high precision motorised XY translation stage for Raman confocal mapping
spacial resolution of confocal spot analysis: lateral and axial: a few micrometers
Software
LabSpec:
Spectrometer program controls instrument functions and data acquisition
Control of the external components (TV camera, motorised XY stage)
Spectral data treatment (baseline correction, spectral subtraction, band fitting, de-convolution, …)
Other software:
Peakfit, allows detailed analysis of spectral data
Spec ID, a spectral library for identification of minerals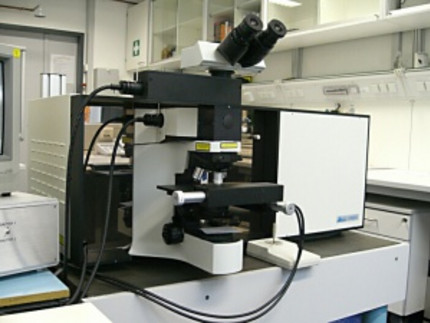 Leader
Institute of Geosciences
Campus Golm
Karl-Liebknecht-Str. 24-25
14476 Potsdam-Golm
Haus 27, Raum 0.44
Leader
Institute of Geosciences
Campus Golm
Karl-Liebknecht-Str. 24-25
14476 Potsdam-Golm
Haus 27, Raum 1.28
Deputy Leader
Institute of Geosciences
Campus Golm
Karl-Liebknecht-Str. 24-25
14476 Potsdam-Golm
Building 29, Room 1.49