Lead
Campus Golm
Haus 27, Raum 2.27

Karl-Liebknecht-Str. 24-25
14476 Potsdam-Golm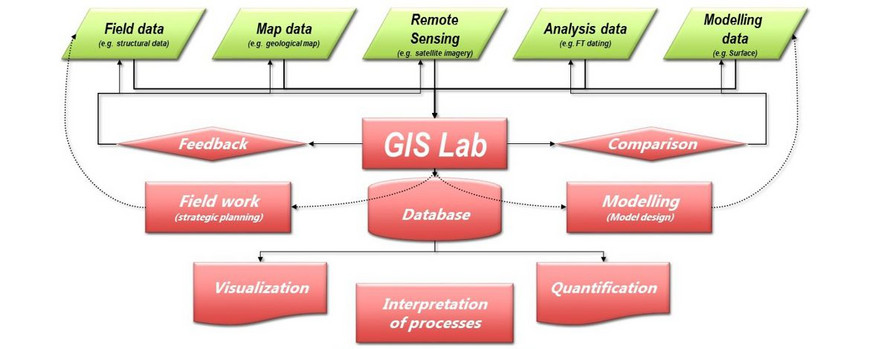 GIS resources consist of hardware and software facilities essential for conducting studies with geospatial data.
A strong focus is on:
Collecting
Analyzing and
Visualizing 3D geospatial data.
3D data acquisition is performed by 3D field data surveying with:
Terrestrial laser scanner (Riegl LMS-Z620)
Nikon 300D Camera (photogrammetric analysis, stereographic photos)
Leica Viva GNSS (two rovers, one base)
9 Panasonic FZ-G1 MK4 Tablets with GNS 2000-Sensors, Win 10, Field MOVE + ArcGIS
The following hardware and software is available for data analysis:
Three 3D processing PCs, 3D visualization Planar 2010 M, + PC DELL Precision T5400 4 XEON CPU 2.5 GHz, 8 GB RAM, hard disk 700 GB
Software (ParaView, ENVI, ArcGIS, AutoCad, Riegl Laser Scanner software, Kubit (Tachycad, Photoplan, PointCloud, hylasFM), MOVE (academic license information), Fledermaus, Rivertools).
and for the provision and visualization of data:
GIS Server (ArcGIS Server 10.3) with 10 TB RAID System Dell PowerEdge T630, 32 GB RAM, 2x2.3 GHz, 10 cores, Windows Server 2012
A0 Scanner Graphtec CS510 Pro + PC 4CPU 3GHz, 1GB RAM, Disk 70 GB, XP 32 bit
Scape Pro 55 UHD 3M (4K/UHD Multitouch-Table)