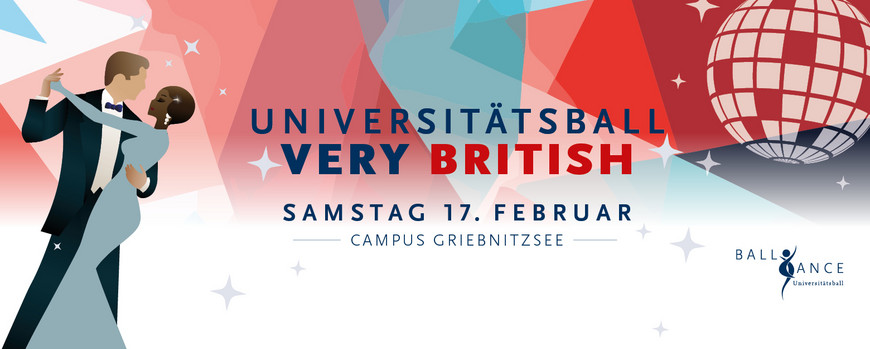 The ticket sale for the 10th University Ball starts October 10th, 2023.
"Very British" …
... will be the motto at the 10th Ball of the University of Potsdam, which will take place on February 17, 2024 on Griebnitzsee campus. The anniversary may be celebrated in the English manner with "Pomp and Circumstance": Clapping, flag-waving and singing along are expressly encouraged, just like at London's Last Night of the Proms! Who knows, maybe even someone from Buckingham Palace will show up? In any case, there will be a royal banquet and a festive ballroom, where you can dance to British pop as well as slow fox and English waltz. Suitable drinks to go with it - hot or cold - can be enjoyed at the bar, in the tea salon and a specially set up pub. The show acts of the evening are elicited this time from the English musical theater. And if you want to contribute to the program yourself, you can make your voice heard at "Speakers Corner".
Preparation dance courses
The following preparation dance courses can be booked from October 10th:
The all-rounder among the dances. If you've always wanted to learn to dance, but haven't yet dared, you've come to the right place. Disco Fox is probably the easiest to learn couple dance in the world, which fits to almost any music - for disco, parties and in between. In this workshop you will learn the basics of Disco Fox. So you will be fit for the dance floors of this world and well prepared for learning other dance styles.
Cha cha, waltz and co. - these are the dances that turn balls and weddings into lively celebrations. But also a lively Jive or a sensual Rumba can turn a casual dance evening into a wonderful experience. In this workshop you will have the opportunity to learn the basic steps and the first beginner figures of the most popular and most applicable dances from the standard and latin repertoire. It is aimed both at those interested in dancing who want to try out this area of couple dancing and at those who want to refresh their basic knowledge. The wishes and preferences of the participants will be taken into account and of course some practical tips for the application at dance events will be included. With this workshop you will be well prepared to make your first dance experiences at events like our upcoming university ball.
BiYou can find photos of previous events on our gallery page.
Photos from the University Ball 2022