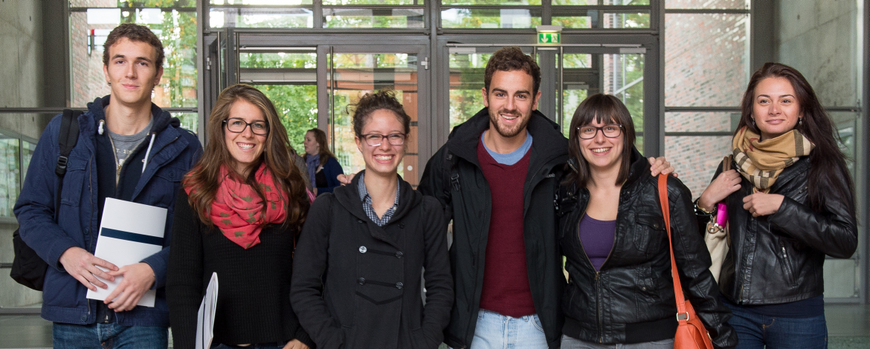 Research, Studies and Work across Borders
The University of Potsdam is an international community with many faces and stories. Its international atmosphere is created by its students from all parts of the world who have enrolled at Potsdam for a semester abroad or a complete Master's or Bachelor's program but also by its professors and lecturers, language teachers and many other employees.
The International Office is the competent authority for all international students. It does not only support them in their academic education at the University of Potsdam but also in mastering the challenges that are sometimes involved when staying in another country.
Potsdam presents itself as a city of science – open to the world and tolerant – with its international conferences, global networks, and research across borders. This also creates a good climate for visiting professors and Ph.D. candidates. They appreciate the proficient working conditions in a region with one of the highest densities of research institutions in Germany. For them, the "Welcome Center" is the first point of contact. There they do not only get help when it comes to practical questions of everyday life like finding an apartment or dealing with authorities but also get personal assistance.
To facilitate a quick integration, the university offers a number of German language courses, organizes intercultural training, and matches up tandem partners who want to learn one another's language with and from each other. There is a special program at the Center for Languages and Key Competencies that helps students to begin their studies successfully. Students from abroad are optimally prepared for their studies and subsequently provided with assistance.
Study and Work Abroad
The University of Potsdam also motivates its German students to gain experience abroad. Potsdam's students use the chance to spend one semester or a full year at one of the many partner universities. Business studies in Beijing, sports management in Australia, language and politics in Moscow or a study trip to Montana to visit the geographical center of the earth, there is a wide choice among more than 300 partner organizations. From a regular course of study or an internship to a double degree or Ph.D. studies – everything is possible.
Such a stay abroad helps students to immerse themselves in a foreign culture and to gather knowledge that goes far beyond the knowledge of their field. The university has a special commitment to arousing students' curiosity for the unfamiliar and to setting the course for studying abroad successfully.
International Relations
The University of Potsdam is extending its international relations and intensifying its contacts to strategically important partners in research and teaching. Students have the opportunity to study at 30 European partner universities and their programs become more and more compatible. Value and recognition of academic achievements abroad are increasing.