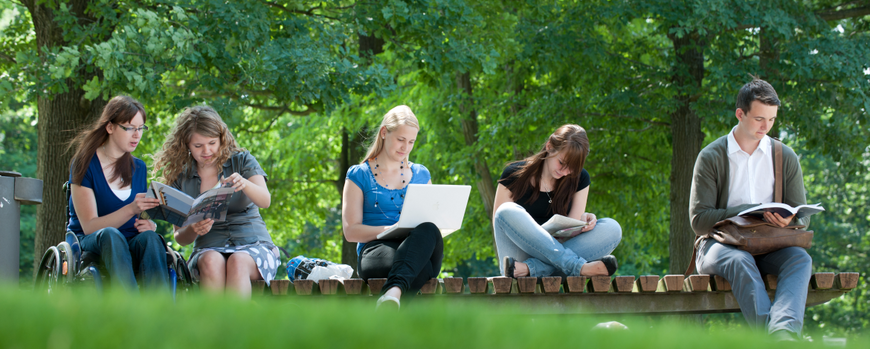 Studying with Profile and for the Future
Young, modern, oriented towards the future: With its just 21 years the University of Potsdam has already achieved an outstanding position among the universities and scientific institutions of Berlin and Brandenburg. It convinces with its great variety of programs and courses as well as with its distinct interdisciplinary research profile. Students can develop their individual aptitudes and talents in numerous one-major programs or combination courses. Some subjects you can study only at the University of Potsdam in this form. Among them are Jewish Studies, Patholinguistics or IT Systems Engineering at the affiliated Hasso Plattner Institute of Software Systems Engineering. Furthermore, the University of Potsdam is the only teacher-training institute in the Federal Land Brandenburg.
Teaching at Potsdam's university is always closely linked to up-to-date research and driven by the latest scientific findings in and outside the university. Students benefit from the great number of extramural research institutions in Potsdam that add value to their studies. These institutions also promote the dialog between theory and real life and open up job opportunities for the students after their studies.
Comprehensive Quality Management
The University of Potsdam is a lively community of teachers and students. Research findings are directly incorporated into teaching, and students can feel the intellectual dynamism in their fields. Comprehensive quality management ensures this on all levels, from Bachelors' programs to graduate or postgraduate studies. Thoroughly structured curricula are considered a guarantor for completing studies within the standard time to degree. Students acquire all those skills that they need to be well-prepared for their future professional life. The University of Potsdam is among the first universities in Germany that is undergoing system accreditation.
Structured Graduate Studies
When you want to obtain a Ph.D. degree at the University of Potsdam, you may use the cross-disciplinary training and support program at the Potsdam Graduate School. It was especially set up for Ph.D. students consistently in line with international quality standards. Individual Ph.D. students and more than twenty Ph.D. programs of various subjects andfaculties are united at this graduate school under one roof. As a liaison body within the research network "pearls" it establishes important contacts to extramural research institutions.
Career Services
In addition to education in their subjects, students can acquire important skills that help them to start their career. The Career Service, some institutes, and Potsdam Transfer, the short form for "Center for Entrepreneurship, Innovation, Knowledge- and Technology- Transfer", support them with their expertise in seeking a job or setting up a business.
Excellence in Teaching
The university's efforts for more "Excellence in Teaching" do not go unnoticed. The concept was awarded with a first price in the competition of the same name of the Stifterverband für die Deutsche Wissenschaft (the business community's innovation agency for the German science system) and the Standing Conference of the Ministers of Education and Cultural Affairs of the Laender in the Federal Republic of Germany. The university is committed to maintain and expand these high standards. It primarily relies on the feedback of the students and student committees. The existing is evaluated jointly and new ideas are conceived in a common dialog.