Climate, Earth, Water, Sustainability | Master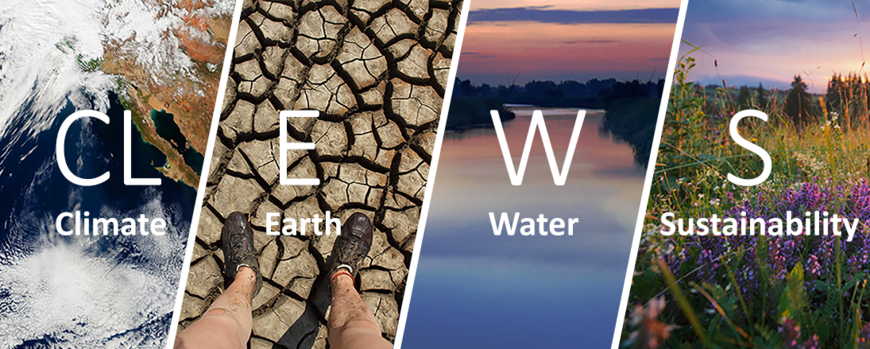 To tackle the global climate crisis, we need interdisciplinary approaches. Graduates of our English-language master's degree program Climate, Earth, Water, Sustainability will be trained to become experts in the field of climate science research in order to address the consequences of global warming in a science-based manner with regard to research, politics, and the public.
THE PROGRAM AT A GLANCE
Name
Climate, Earth, Water, Sustainability
Degree
Master of Science
Standard period of study
4 Semesters
Credit points
120
Language of instruction
English
Start of study (1st semester)
Winter semester
Campus
Golm
Fees & Charges
Semester fees and charges: yes
Tuition fees: no
Climate, Earth, Water, Sustainability (CLEWS) is a research-oriented degree program with close ties to research projects at the university and at extramural institutions in Potsdam. A majority of the master's theses will be completed within the framework of such research projects. Module content is also closely linked to research activities of the partners, integrating the latest research topics, research results, and research methods into the courses. The modules and examinations are designed to be competence-oriented. Subject-specific knowledge is just as much of a focus as the acquisition of methodological, social, and personal skills and abilities. The contents of courses, learning objectives, and examinations will be adjusted to one another.
Program Objective and Future Career Options
In the research-oriented master's program CLEWS, students will develop a deeper understanding of the climate system, other subsystems of the Earth system, and their transformations. The program focuses on quantitative environmental research, physics, climate and hydroscience. In addition, it covers important aspects of risk analysis, environmental economics, communication, and energy policy. Methodologically, the focus is on methods of data analysis, numerical modeling, and data acquisition using remote sensing.
Graduates will have an understanding of statistics, data analysis, programming, and numerical modeling, and will be able to collect and process data from the field or the laboratory. They will learn to effectively formulate scientific questions related to climate change and environmental issues and provide science-based, long-term solutions that also integrate economic aspects and issues of sustainability and communication. Future graduates will also have developed the soft skills they need to effectively explain scientific problems and communicate scientific data and findings, thereby reaching the general public outside of academia.
The program builds the foundation for research activities at a high academic level, qualifies students to work on complex issues, and generally cultivates the skills relevant to a career in this field. Graduates will therefore be able to take on specialist or leadership roles at universities, research institutions, environmental and planning offices, government agencies, NGOs, and relevant departments in banking, insurance, and industry. This opens up very good career prospects for graduates of the program.
Prerequisites for Admission to the Master's Program
In general, the prerequisite for master's studies at the University of Potsdam is a first academic degree, such as a bachelor's degree. Your first degree should be in a subject relevant to the program. Since this is an English-language degree program, a very good knowledge of English, corresponding at least to level B2 of the Common European Framework of Reference, is expected.
A first undergraduate degree from an institution of higher education in Geoecology, Environmental Sciences or Physics amounting to at least 180 CPs; or a first undergraduate degree in the natural sciences with evidence of successfully completed modules amounting to at least 12 credit points each in physics, 12 CP earth and environmental sciences, 12 CP mathematics, and at least another 12 credit points in the natural sciences.
You can read more about the subject-specific admission requirements in the respective admission regulations.
CONTENT AND CREDIT POINTS

Modules

Credit points

I. Mandatory Modules
36 CPs
Data Analysis and Management in Earth System Science
6 CPs
Numerical methods (Programming) & Introduction: Climate, Earth, Water, Sustainability
6 CPs
Data collection in Earth System Science
6 CPs
Atmospheric and Oceanic Fluid Dynamics
6 CPs
Debating Club (Student seminars) & Research training (Traineeship)
6 CPs

Introductory module
Students must take one of the following introductory modules to compensate for the respective lack of specialized knowledge.

Introduction to the Earth System
6 CPs
Mathematics & Physics for Earth Sciences
6 CPs
II. Elective Modules
Students must choose and successfully complete 9 modules from 22 areas of study.
54 CPs
II.1 Climate/Atmosphere
Dynamics of the Climate System
6 CPs
Earth's Climate History
6 CPs
Numerical Models in Climate Science
6 CPs
Atmospheric Science in the Anthropocene
6 CPs
II.2 Earth
Land Use – a Key Control of Earth System Processes
6 CPs
Earth System Science & Anthropocene
6 CPs
The Environmental Modelling Process
6 CPs
II.3 Water
Ocean Dynamics
6 CPs
Ice Dynamics
6 CPs
Terrestrial Hydrosystems
6 CPs
Dryland Hydrology
6 CPs
II.4 Sustainability
Environmental Economics
6 CPs
Economics of Climate Change
6 CPs
Risk Perception, Communication and Adaptive Behavior
6 CPs
Ecosystem Dynamics (Biodiversity)
6 CPs
Recent Advances in CLEWS
6 CPs
Energy Policy and Climate Change
6 CPs
Introduction to Science & Climate Change Communication
6 CPs
Natural Hazards and Risks
6 CPs
Climate Change Adaptation
6 CPs
Risk Analysis, - Assessment and - Reduction
6 CPs
II.5 Research Project
Introductory research project
6 CPs
Master's thesis
30 CPs
Total
120 CPs
Advantages at a Glance
Students will develop a deeper understanding of the climate system, other subsystems of the Earth system, and their transformations. From this, knowledge-based analyses and sustainable strategies are derived to solve fundamental challenges of our time affecting earth and environmental systems, e.g. climate change, limitation of water and geo-resources, or risks of natural phenomena.
Students will become familiar with the water cycle, biosphere, and climate physics, and gain a general understanding of water resource utilization and management, energy production, and other geo-resources.
Application and Enrollment
You want to study in the master's degree program Climate, Earth, Water, Sustainability at the University of Potsdam? Then you should take the next step and get more information about the current application and enrollment procedures at the application website.
This description is based in part on information from the Discipline-Specific Regulations for Study and Examinations for the Master's Program in Climate, Earth, Water, Sustainability at the University of Potsdam dated February 10, 2021 (AmBek No. 10/21, p. 313).