Book Review September 2023
---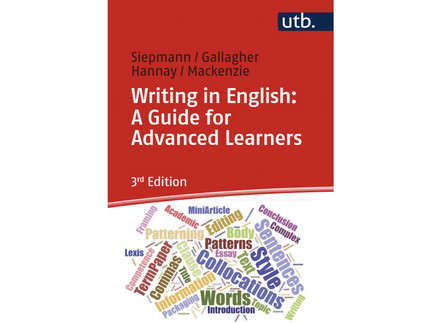 Writing in English:
A Guide for Advanced Learners
Siepmann, Dirk / Gallagher, John D. / Hannay, Mike, and Lachlan Mackenzie
3rd edition, 2022, Narr Francke Attempto/utb, 526 pages
ISBN: 9783825256586
A digital version of this book is available via the OPAC of the university library.
Mastering a language, especially in written academic form, is not an easy feat. You could have decades of experience writing in a foreign language, and still find yourself at an impasse, unable to express an idea in your text. Fret not, the authors of "Writing in English: A Guide for Advanced Learners" are here to help. They set out to aid native German speakers gain insight into how to produce successful English academic papers. Along the way, they take a closer look at the underlying linguistic principles that are guiding text production and cover everything from collocations to punctuation.
While the length of this book might seem intimidating, it is worth the read for anyone who is not afraid to delve deep into how English texts function on a macro and a micro level. The book is divided into four modules, which in turn contain several chapters each. The first module covers text organization. As it is focused on the structure of term papers, more advanced readers might want to skip this module. Even in this module, however, there is potentially novel information, such as the seven types of paragraph elaboration. The second and third modules provide a very detailed look at the structural elements that make up the English language. Within the second module, possible sentence structures in English are covered. Here, readers can gain insight into how to convey information effectively within clauses and how to practice grammatical variety. The chapters of the third module cover a variety of information about English lexis and grammar. Perhaps this module's most useful feature are the many tables contained within it, which include information on, for example, how to find the proper collocations for a word. The fourth module consolidates many of the topics that have been covered in the first three modules. Its focus is on how to develop a clear writing style, observing the five principles of aptness, clarity, concision, variety, and elegance.
What truly sets this book apart from similar handbooks is its commitment to highlighting the features of English academic writing that may be especially tough to grasp for writers with a German-speaking background. Throughout the entire book, authentic examples from English and German texts are analyzed and contrasted. In addition, numerous checklists and tables providing a wealth information are included.
What makes this guide especially useful, is that it does not just offer facts, it also encourages independent problem solving. This is achieved by offering several strategies that can be implemented to solve the issues one may encounter when writing an English text as a non-native speaker, for example when faced with translating a German compound word or a phrase linked to a culture-specific concept.
Students and lecturers keen on honing their writing skills can use this handbook to introduce more variety into their texts and make their English writing style more idiomatic.
Reviewed by Fiona Wünsch, September 2023