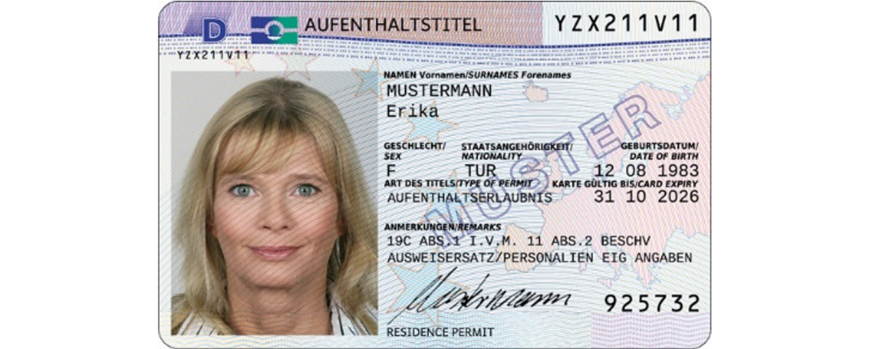 The Immigration Office is responsible for matters related to laws concerning foreigners, as well as the granting and extension of residence permits.
If you do not have an EU passport and intend to stay in Germany longer than three months, then you must apply for a residence permit at the Immigration Office where you live (unless you already have a long-term visa for the entire duration of your stay). Please apply for your residence permit six weeks before your visa or your current residence permit expires.
The application and issuance of the electronic residence permit requires two personal appointments at your Immigration Office.
Checklists with the necessary documents for applying for or extending a residence title can be found at the end of the page. The immigration authorities may request additional documents in individual cases.
If you have any questions, please contact our Welcome Center Team.
---
Due to the Russian war of aggression against Ukraine and the resulting high numbers of refugees that the Immigration Office is facing, you must currently expect several months for appointments to be made and your request to be processed.
We support you as doctoral candidates, postdocs, and visiting scholars in making appointments with the Immigration Office Potsdam. Please send us an e-mail and the expiration date of your current visa/residence permit.
You can make an appointment onlinewith the Immigration Office in Berlin. High demand for appointments, especially at the beginning of the semester, may lead to closure of the online scheduling system. If this is the case, please go in person to the Immigration Office within the opening hours. Caution: You must arrive early and be prepared for very long wait times!
Potsdam Immigration Office
Helene-Lange-Str. 6/7
14469 Potsdam
opening time
Mon, Wed, Fri 9.00-12.00
Tue 9.00-18.00
Thu 9.00-16.00

Berlin Immigration Office
Keplerstr. 2
10589 Berlin
opening time
Mon-Fri by appointment only