Cognitive Science – Embodied Cognition | Master/Ph.D.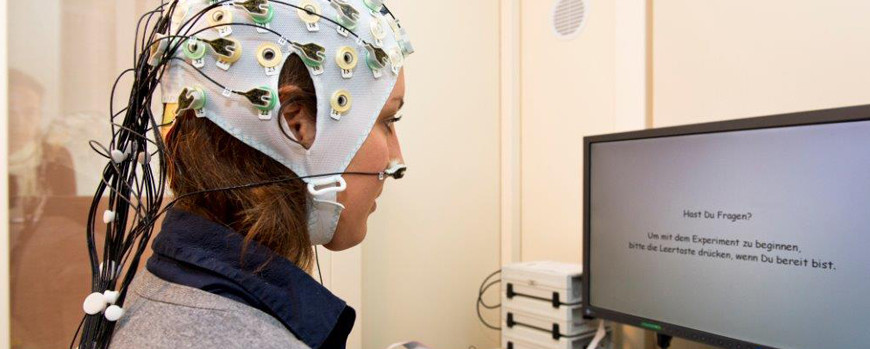 This research-oriented master's degree opens up new perspectives on addressing questions related to cognitive science and embodied cognition. Under the two keywords of interdisciplinarity and internationality, young scientists are given the opportunity to develop promising concepts and technologies and to test them in a state-of-the-art research environment.
THE PROGRAM AT A GLANCE
Name
Cognitive Science – Embodied Cognition
Degree
Master of Science and/or Ph.D.
Standard period of study
4 semesters
Credit points
120
Language of instruction
English
Start of study (1st semester)
Winter semester
Campus
Golm
Fees & Charges
Semester fees and charges: yes
Tuition fees: no
The master's course of study serves to extend and deepen the discipline-specific and methodological knowledge and skills you have already acquired in your Bachelor's degree on the topic of human cognition. On the basis of a specific and interdisciplinary array of methods you will be placed in a position to formulate questions pertaining to cognitive process analysis and to develop solutions. Discussion of the most recent research results will enable you to work towards modelling neuro-cognitive processes and systems. Aside from learning to present complex stimuli and to measure human responses you will acquire broad and fundamental skills in experimental and psychophysical methods, especially pertaining to computer-based implementations of experimental designs with programming languages and their application for data collection.
You will learn to identify new areas of research and to study these experimentally, and you will be enabled to appropriately develop existing analytical approaches further. In collaboration with other team members you will be able to present your research results with a view towards international dissemination.
The second segment of the degree program focuses on independent planning and implementation of a PhD project, the completion of which leads to the award of the title "Doctor of Philosophy" (Ph.D.).
"In the Cognitive Sciences at the University of Potsdam we focus on nothing less than the basis of human communication and other complex mental and motor abilities."
Course Objective and Future Career Options
Graduates of this degree program will be able to work scientifically in the cognitive and neurosciences. They are also qualified for research and leadership positions in corresponding industrial sectors. Based on their deep knowledge of cognitive processes and their neuronal foundations as well as mathematical and methodological skills the graduates of this program can conceptualize complex projects and experiments in various subfields of the cognitive sciences, formulate hypotheses and examine them quantitatively.
Prerequisites for Admission to the Master's Program
Your continued interest in the mathematical and natural sciences, as well as a curiosity to establish neuronal foundations of human behaviour, provide a good foundation for being accepted into the program. In contrast, an interest in clinical psychology, psychiatric problems and their therapy, are clear contra-indications – these topics play no role in the degree course.
A general prerequisite for the Master's degree at University of Potsdam is a first professional qualification, e.g. a Bachelor's degree. Your first degree should come from a discipline that is relevant to the cognitive sciences, such as cognitive psychology, cognitive neuroscience, or cognitive science; also, informatics, medicine or human biology with strong cognitive focus, or philosophy and linguistics with a clear link to human thinking and knowledge are normally suitable qualifications. Degrees in engineering without clear cognitive focus or in pedagogy are normally not sufficient qualifications.
Your previous studies should already show an interest in cognitive sciences and embodied cognition. This should again be highlighted in your motivation letter which could also list other relevant qualifications (research internships, programming skills, knowledge of specific literature). You should specifically describe whether you have already completed an experimental practicum course and also state your knowledge of calculus and linear algebra because these qualifications are relevant for your admission.
As the course is offered in English, we expect you to document good English language skills, at least at the B2 level of the Common European Framework of Reference.
You can read more about the subject-specific admission requirements in the respective admission regulations.
"In the Cognitive Sciences at the University of Potsdam we focus on nothing less than the basis of human communication and other complex mental and motor abilities."
The degree program has two components: In the first segment, you earn a total of 120 credit points in the four-semester master's program. The second segment, the Ph.D. program, includes another 4 semesters. The following overview provides information about the weighting of individual modules and types of courses. For additional information, please consult the subject-specific Degree Regulations or the Departmental Advisory Office.
CONTENT AND CREDIT POINTS (CP)

Modules

Credit points

FIRST SEGMENT
Mandatory modules
63 CP

Cognitive Science and Embodied Cognition

Mathematical Modelling in Neurocognitive Psychology

Neuroscience of Embodied Cognition

Advanced Methods: Experimental Programming

Advanced Methods: Multi-variate Statistics

Individual Research Module

15 CP

9 CP

9 CP

6 CP

9 CP

15 CP

Optional mandatory modules
Modules adding up to 18 credit points must be selected and successfully completed.

18 CP


Developmental Science and Embodiment

Language and Development

Cognitive and Sensorimotor Development

Neurolinguistic Perspectives

Philosophy of Neuroscience and Embodied Cognition

Cognitive Neuroscience, Neuropsychology and the Body

6 CP

6 CP

6 CP

6 CP

6 CP

6 CP

Bridge Modules*

9 CP


Bridge Module "Experimental Psychological Internship"

Bridge Module: "Applied Mathematics"

Laboratory Internship

9 CP

9 CP

9 CP

Master's Thesis

30 CP

Total
120 CP
SECOND SEGMENT
Progress Reports
12 CP
Colloquium for Doctoral Candidates
12 CP
Cognitive Science Colloquium
12 CP
Potsdam Graduate School Courses
24 CP
Dissertation and Defense
60 CP
Total

120 CP

* For additional information about the Bridge Modules, please consult the Degree Regulations.
Advantages at a Glance
Potsdam, as a location for scientific research, allows you to benefit from an outstanding network of research institutions that are active within and beyond the region. Modern institutions and the concept of research-based teaching enable you to study subjects that you have chosen, in a practical way. Potsdam University has a special research focus on cognitive sciences with impressive facilities. The inter-faculty connection of corpus-supported, experimental, and clinical working methods as well as outstanding support from your interdisciplinary team of advisors, benefits your academic prospects.
The University of Potsdam has taken into account the actual conditions among students and introduced the option for part-time study into several degree programs. This also pertains to Cognitive Science - Embodied Cognition. For more information, go to part-time studies at the University of Potsdam.
Application
Have you decided to study the English-language master's degree in Cognitive Science - Embodied Cognition at the University of Potsdam? Then you should take the next step on the application pages to find out more about current application and enrollment procedures.
This description is based in part on information from the Discipline-Specific Regulations for Study and Examinations for the Master's and Ph.D. Programs in Cognitive Science – Embodied Cognition at the University of Potsdam dated January 20, 2016 (AmBek No. 5/16, p. 185).