Junior Teaching Professionals
Fit for teaching
Target group: PhD candidates
Language: German
Duration of the program: 12 month
A new round of applications will start in December 2023 for the 2024/25 round.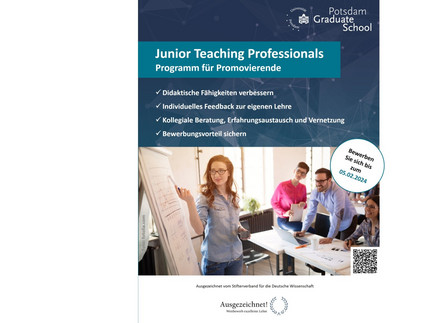 Program overview
You know what that is? Do you have to take on teaching duties in addition to your own research work and feel thrown in at the deep end? You would like to underpin your intuitive teaching with didactic knowledge? Then the Junior Teaching Professionals Program is just right for you. The one-year certificate program consists of:
Six didactic workshops and one individual coaching
The implementation of accompanied and independent teaching
Mentoring by experienced university lecturers
Networking: collegial teaching hospitation and Forum ProLehre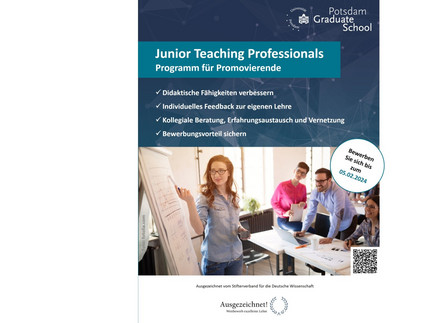 Program goals
Familiarize yourself with current concepts around learning and knowledge transfer.
Reflect on how you understand your role as teacher.
Plan a course efficiently with professional support and conduct it independently.
Benefit from individual feedback on your teaching and experiences shared by your colleagues.
Put what you have learned into practice right away!
Upon successful completion of the program, you will receive a certificate to be used for your future applications.
Conditions of participation & Additional information
The program is aimed at PhD candidates of all scientific disciplines. Please note your status as one of the following:
University of Potsdam
Partner institutions
External
The participation fee depends on your status. For further information please refer to the current announcement.
Free childcare available during participation in program workshops.
Application
Please submit the following application documents during the application period:
Online-Registriation
Letter of motivation
Preliminary confirmation of participation, including a declaration of agreement from a teacher who will be available as a mentor case of a successful application and from the first supervising university teacher
For detailed information, please refer to the call for proposals.

Kontakt: Dr. Kerstin Hille

WIS | Wissenschaftsetage, 4. Etage
Bildungsforum
Am Kanal 47
14467 Potsdam