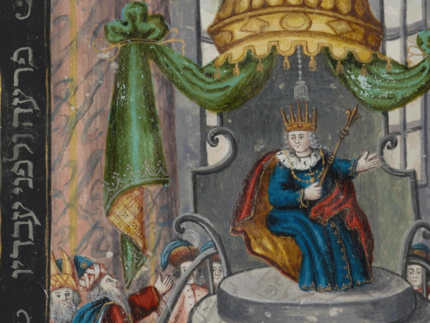 New Release: Judaica Portal Berlin-Brandenburg goes beyond boundaries of the science region
The Judaica Portal Berlin-Brandenburg which was launched in 2017, is growing beyond its regional borders. With the new release, the holdings of the Institute for the History of German Jews, the Library of Jewish Scepticism - Library of the Maimonides Centre for Advanced Studies at the University of Hamburg, the Library of the Jewish Community Hamburg and the Judaica holdings of the State and University Library (SUB) Hamburg are listed together in the portal. They can also be accessed directly via facets in the portal interface.
When it was launched in 2017, the specialist holdings of 11 Berlin and Brandenburg libraries as well as the article index for Jewish Studies, RAMBI, of the National Library of Israel, became searchable in the portal . Another novelty was the integration of a virtual Hebrew keyboard with the possibility to switch the direction of writing, which enables searching in the original script.
The portal has been continuously expanded since then. In 2018, the Digital Judaica Collection of the University Library Johann Christian Senckenberg in Frankfurt am Main was integrated, opening access to almost 50,000 digital copies. Since 2019, the Judaica holdings of the German Archaeological Institute, the Film University Babelsberg Konrad Wolf and the Joseph Wulf Mediothek (Haus der Wannsee-Konferenz) can also be searched via the portal.
The success of the portal is primarily due to the close cooperation between the Fachverbund Judaica (Berlin-Brandenburg), the Selma Stern Center for Jewish Studies Berlin-Brandenburg and the Cooperative Library Network Berlin-Brandenburg (KOBV). The Discovery Service ALBERT - Library Search Engine which was developed by the KOBV, meets the sometimes very specific requirements of Judaica subject collections, such as transliterated title information as well as the readability of original scripts and right-reading fonts. The technical solutions provided by the KOBV were also used for the fundamental advancement of the ALBERT system. The Judaica Portal is the first ALBERT instance to deduplicate data sets from heterogeneous sources and to use additional mechanisms for data preprocessing - parallel to the KOBV portal. Other specialized collections with particular requirements in terms of fonts and reading direction will also benefit from this further development.
By adding the Hamburg Judaica holdings, the portal is crossing its previous regional boundaries of listed library holdings. Apart from facilitating access in general, it gives scientists and all interested parties the possibility to gain insight into the Judaica holdings of the scientific landscape of Berlin-Brandenburg and Hamburg. The participation of further libraries with Judaica collections from German-speaking countries is planned and desired.
Text: Dr. Andreas Kennecke & Dr. Monika Schärtl
Translation: Bastian Wiesemann