Welcome to the "Didaktikwerkstatt Englisch"!
Didaktikwerkstatt Englisch
Campus am Neuen Palais
Building 22, Room 0.33/0.34
14469 Potsdam
Öffnungszeiten
Bitte schauen Sie sich die Anweisungen für einen Didaktikwerkstattbesuch unten an.
Please view the instructions for visiting the Didaktikwerkstatt below.
Liebe Studierende,
wir begrüßen Sie herzlich in der Didaktikwerkstatt Englisch.
Momentan haben wir nur nach Bedarf geöffnet. Bitte klicken Sie hier, um die entsprechenden Öffnungszeiten und Kontaktinformationen einzusehen.
Das Team der Didaktikwerkstatt Englisch
____________________________________________________________________________________
Dear students,
We welcome you warmly to the Didaktikwerkstatt English.
At the moment, we are only open as needed. Please click here to view the respective opening hours and contact information.
The team of the Didaktikwerkstatt English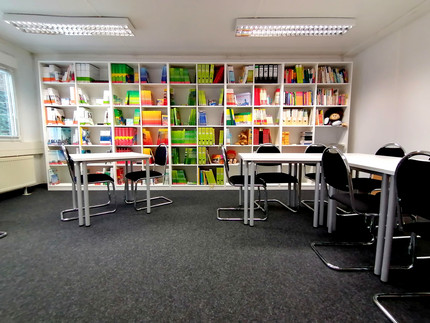 The "Didaktikwerkstatt Englisch" is a reference library that offers a collection of materials for the teaching and learning of English as an additional language. It provides opportunities for individual students or small groups to plan and prepare language lessons and to conduct research for seminars or bachelor's and master's theses. The "Didaktikwerkstatt Englisch" thus aims to support students in linking theory to practice and in fostering their professional knowledge and competences.
In addition to its role as a working space, the Didaktikwerkstatt is a place for innovative seminars and workshops for (prospective) teachers.
We are looking forward to your visit!
The TEFL Team