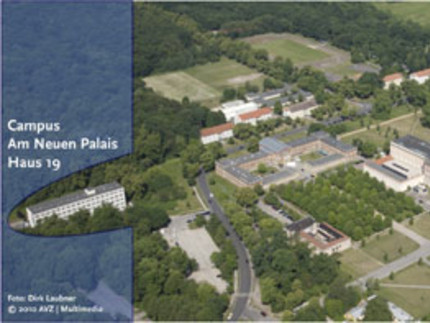 How to find us . . .
The Department of English and American Studies is situated within the campus grounds at the New Palace (Neues Palais), which connect to beautiful Sanssouci Park. The adjacent train station is regularly serviced by regional trains; bus lines connect the campus to Potsdam Central Station. From there, city and regional trains provide quick access to the Berlin.
Potsdam is the place of study where you will feel at home in no time. The city boasts not only excellent study opportunities combined with the unique flair of a historical campus site, but also the wide range of offerings of the Berlin-Brandenburg cultural scene. For more information about Potsdam, its history and surroundings visit the city's website.
Transport connections
Public transport connects the campus to Potsdam Central Station by the bus lines 695, 695 and X5 (Neues Palais stop) and the regional trains RB 20 and RB 21 (Park Sanssouci station).
Travelling by car, you arrive
coming from the North via the A 10, exit Potsdam-Nord, then on the B 273 towards Potsdam-Amundsenstraße and Neues Palais;
coming from the South via the A 10, exit Potsdam-Süd, then on the B 2 towards Potsdam Breite Straße - Zeppelinstraße - Geschwister-Scholl-Straße and Am Neuen Palais;
coming from Berlin across the Glienicker Brücke or via the A 10, exit Potsdam-Babelsberg - Nuthestraße, towards Neues Palais.