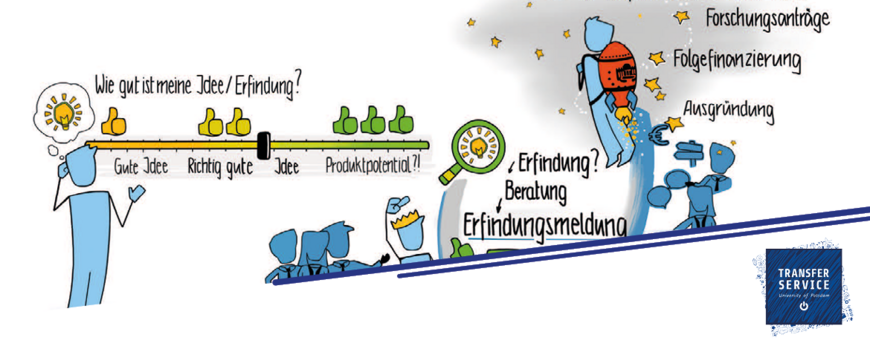 With Potsdam Transfer's patent and licensing service, we offer our scientists comprehensive support in protecting and exploiting their inventions.
Why should you protect your invention?
Requirements enforce patenting: For certain projects that are subject to the BMBF's incidental provisions BNBest-BMBF 98, it is mandatory to apply for a patent for your invention. Exceptions require the written consent of the funding body.
Occupation of a research area, protection of your own development: By patenting, you can stake out an economically interesting technology area and create a basis for further research. This makes further developments possible "without fear". In extreme cases, you can create a monopoly position for your product or process. Although the patent holder cannot prohibit research on it (research privilege), the patented technology may not be used to create new inventions without being asked.
Motivation for your own employees: Patents are not only interesting for one's own community, but also offer economic opportunities. Patents increase the value of research and make it accessible to the general public.
Getting attention - Higher reputation on the market: Patents serve as proof of scientific competence and performance. They are an important instrument for drawing the attention of partners or clients to one's own research. This creates a better starting position for marketing and negotiations with industrial partners.
Project acquisition: Industrial property rights are important for attracting research partners and funding sources. Patents are often a necessary prerequisite for obtaining certain funding measures, even if this is not openly communicated. Particularly in the area of start-ups, existing, protected intellectual property and the university's commitment to its use are of great importance.
Direct exploitation: By selling, licensing or optioning, you can directly commercialise your invention. However, this can be difficult when it comes to basic research-oriented university inventions that were created independently of business. Companies often invest little in further developments. However, there is great potential for exploitation by start-ups in which inventors can market their own invention.
Start-up support: Those interested in founding a company receive direct support through letters of intent and start-up-friendly option agreements. For investors, it is important that the start-up team can dispose of the business-building intellectual property.
How do we support you?
Advice: We are available to answer your questions about IP rights and inventions. We help you identify possible protection potential for your invention and plan the next steps with you.
Patent application: We work together with several patent law firms and are sure to find the right expert for your inventions. Of course, we also take care of all the administrative steps and are happy to explain all the formalities to you.
Exploitation: We help you with the marketing and exploitation of your invention. We have a network of industrial partners and investors who are interested in innovative technologies. We also support you if you want to present your invention at a trade fair, for example.
Seminars and workshops: We regularly offer interesting seminars and workshops on IP-related topics such as patents, trademarks or software inventions. These events - especially the IP@UP​​​​​​​ series - expand your knowledge in the field of intellectual property and industrial property protection. This knowledge serves you not only in the university environment, but also in the business environment and in cooperations with research partners.