---
Technology offers of the University of Potsdam
Here you can find current short descriptions of the patent-pending technologies of the University of Potsdam. Our exposés also give an overview of the status of patenting, possible areas of application and exploitation offers (cooperations, licenses, etc.). Many registrations have already been made, some are still being examined by the responsible authorities.
Do not hesitate to contact us with any questions or requests. We are happy to assist you in contacting the respective inventors.
This page is constantly updated, so repeat visits can be worthwhile! In the near future you will also find our offers in the Invention Store on the website of TransferAllianz, the German Association for Knowledge and Technology Transfer.
---
PDW-Spektroskopie (Ref. 06-38)
Erfinder: Prof. Dr. Hans-Gerd Löhmannsröben, Dr. Oliver Reich
Die erfindungsgemäße Messanordnung beruht auf der Erzeugung und Detektion von Photonendichtewellen in nanoheterogenen, stark lichtstreuenden Materialien zur Bestimmung ihrer Absorptions- und Streueigenschaften. Damit ist die Beobachtung einer Vielzahl chemischer Reaktionsverläufe (z.B. Emulsionspolymerisation) sehr gut zugänglich.
Download Exposé 06-38 (deutsch)
​​​​​​Download EP 2040050 (erteilt)
---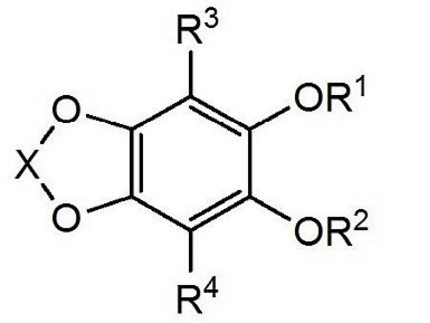 Novel Fluorenscent Dyes
Prof. Dr. Pablo Wessig, Kristian Wittke geb. Möllnitz, Dr. Robert Wawrzinek
Ref. 10-06
The present invention consists of novel fluorescent dyes primarily feature a large Stokes shift and long fluorescence lifetime. This is a nearly unique combination.
The novel dyes have a chemical structure previously unknows in flourescent dyes. Moreover, they have excellent photophysical properties and are easy to sythesize compared with other flourescent dyes.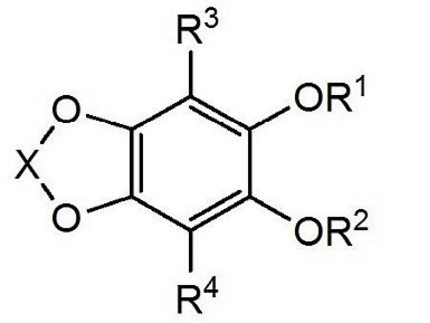 ---
Fluoreszenzfarbstoffe mit Fähigkeit zur 2-Photonenabsorption
Prof. Dr. Pablo Wessig, Daniel Freyse
Ref. 17-02
Bei der vorliegenden Erfindung handelt es sich um neuartige Fluoreszenzfarbstoffe, die eine bessere hydrolytische Stabilität, höhere Anregungs- und Emissionswellenlängen sowie größere Stokes-Shifts im Vergleich zu bereits bekannten Fluoreszenzfarbstoffen mit ähnlichem Grundgerüst besitzen. Die neuartigen Farbstoffe besitzen herausragende photophysikalische Eigenschaften und sind zudem im Vergleich zu anderen Fluoreszenzfarbstoffen einfach zu synthetisieren. Hinzu kommen eine hohe Bleichstabilität und bessere synthetische Zugänglichkeit.
Beachten Sie bitte auch das Angebot 10-06.
Download Exposé 17-02
---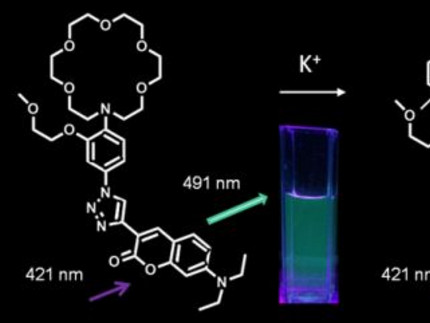 Neue hochselektive Fluoroionophore zur Alkaliion-Bestimmung
Prof. Dr. Hans-Jürgen Holdt, Dr. Sandra Ast
Ref. 11-06
Diese neue Verbindungsklasse der Fluoroionophore bietet einen ökonomischen Zugang zu einer Vielzahl an Fluoreszenzindikatoren für K+ und Na+ durch einfache Variation der Fluorophor- oder Ionophor-Gruppe. K+ kann durch den erfindungsgemäßen Indikator selektiv bereits in äußerst geringen Konzentrationen (klinisch relevanter Bereich, simulierte physiologische Bedingungen) nachgewiesen werden.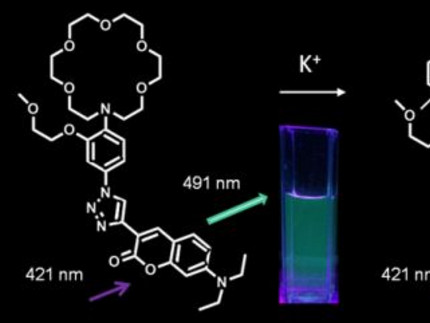 ---
Regulation von Muskel- und Sehnenoszillation
Prof. Dr. Frank Bittmann, Dr. Laura Schaefer, Stefanie Venner-Zinn
Ref. 14-24
Bei der vorliegenden Erfindung handelt es sich um eine Vorrichtung zur individuell rückgekoppelten Regulation von Muskel- und Sehnen-Oszillationen bei verschiedenen Muskelaktions- oder Trainingsformen - insbesondere für den Einsatz bei neurodegenerativen Erkrankungen wie dem Parkinson-Syndrom. Ziel und neu dabei ist, ein Re-Training der physiologischen Oszillationsmuster zu bewirken, um einen positiven Effekt auf die Symptomatik sowie Progredienz der Erkrankung zu erreichen.
---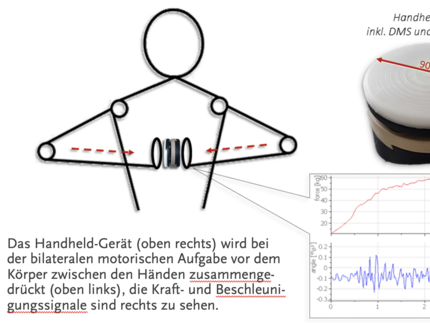 Handheld-Gerät zur Erfassung neuromuskulärer Funktionen (Ref. 18-02)
Erfinder:innen: Prof. Dr. Frank Bittmann, Dr. Laura Schaefer
Das erfindungsgemäße Gerät erfasst die Reaktionskraft zwischen den Extremitäten sowie die von der Muskulatur generierten Oszillationen simultan über die Zeit. Die Technologie könnte eine Bedeutung für Befundung und Therapie von neurodegenerativen Erkrankungen (z.B. Parkinson-Syndrom) haben.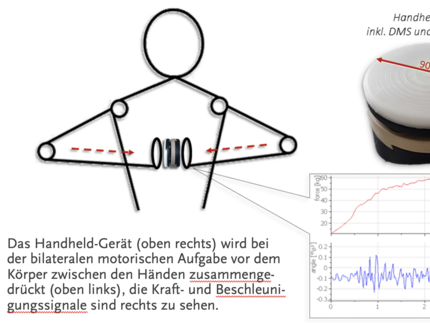 ---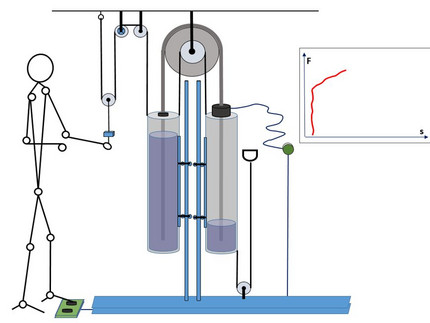 Messung und Training der Adaptiven Kraft (Ref. 18-04)
Erfinder:innen: Prof. Dr. Frank Bittmann, Dr. Laura Schaefer
Die Erfindung betrifft eine Vorrichtung zu Erfassung und zum Training einer Adaptiven Kraft. Das System verändert dabei fließend die Kraft, die auf die zu testende bzw. trainierende Person einwirkt.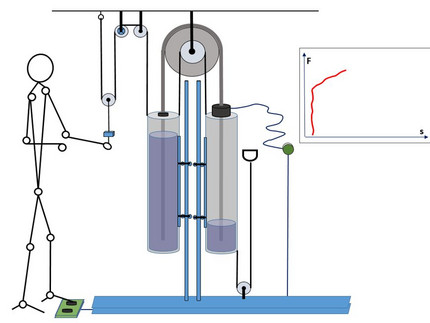 ---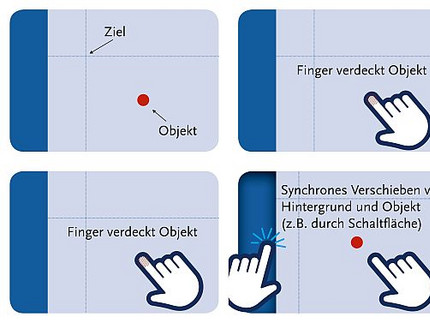 Exaktes Positionieren auf Touchscreens
Prof. Dr. Ulrich Kortenkamp, Heiko Etzold, Christian Dohrmann
Ref. 15-01
Berührungsempfindliche Bildschirme (Touchscreens) haben das Problem, dass bei der Bedienung genau diejenigen Objekte auf dem Bildschirm verdeckt werden, mit denen eine Interaktion stattfinden soll. Mit der vorliegenden Erfindung verschiebt sich durch eine Nutzeraktion der komplette Bildschirmbereich oder ein sinnvoller Teilbereich so weit unter dem Finger weg, dass der zuvor verdeckte Bereich wieder sichtbar ist. Durch Bewegen des Fingers kann man nun das ausgewählte Objekt beliebig verschieben und exakt positionieren. Der vorher verdeckte Bereich bleibt vollständig zu sehen.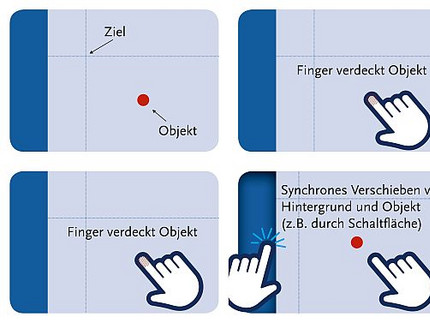 ---
---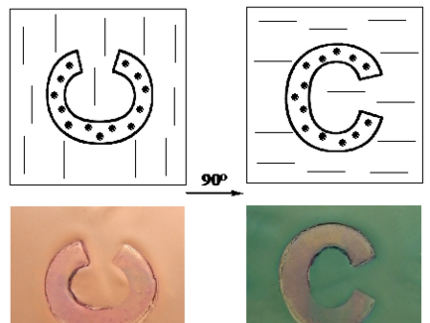 Optisch anisotrope Sicherheitsmerkmale (Ref. 12-27)
Erfinder:innen: Dr. Jana Bomm, Dr. Joachim Stumpe
Optisch anisotrope Polymer-Nanokomposit-Filme bzw. Fasern lassen sich erfindungsgemäß chemisch in zellulosebasierte Zusammensetzungen wie Geldscheine, Dokumente oder Verpackungen integrieren und bilden so ein neuartiges Sicherheitslabel.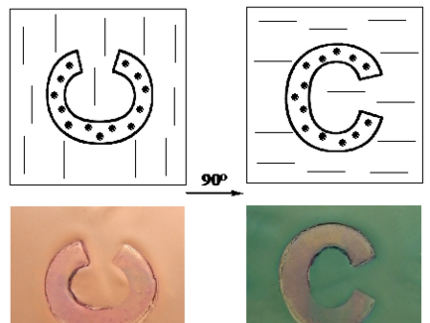 ---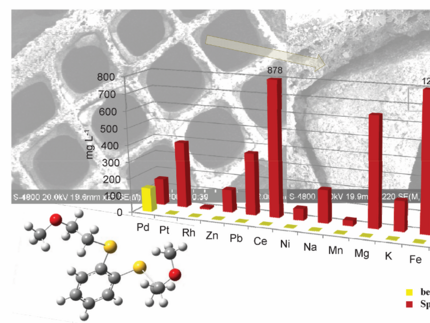 Rückgewinnung von Palladium(II) (Ref. 11-17)
Erfinder:innen: Prof. Dr. Hans-Jürgen Holdt, Dr. Juliane Traeger
Mit Hilfe einer neuen Klasse von Extraktionsmitteln gelingt es, Palladium(II) hochselektiv aus salzsauren, oxidierenden Medien zu extrahieren. Das Edelmetall kann somit direkt aus Leachinglösungen sekundärer Rohstoffquellen, wie z.B. gebrauchten Autoabgaskatalysatoren, zurückgewonnen werden.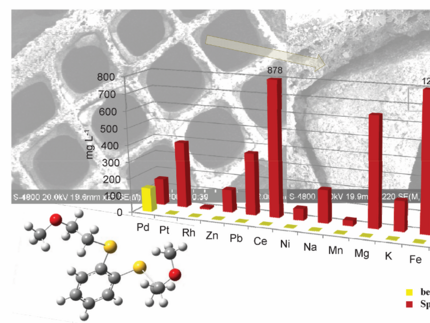 ---