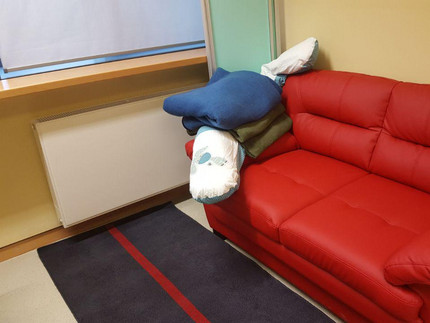 Since November 2018, the HPI now also has a retreat to breastfeed and feed babies. This room is located in C-E.12. As this room now serves four purposes (first aid room, quiet room, prayer room and lactation room), we ask everyone to communicate the use of the room to others using the notes on the door.
A sofa has been ordered to furnish this room and a room divider as a privacy screen is also on site. Furthermore there is a changing mat and a nursing pillow with removable covers. If the latter should become dirty when feeding your child, we ask that you clean them yourself.
A refrigerator and a kettle cannot be provided for fire protection reasons. Please use the equipment in the tea kitchens for this purpose.