Micronutrients in developing countries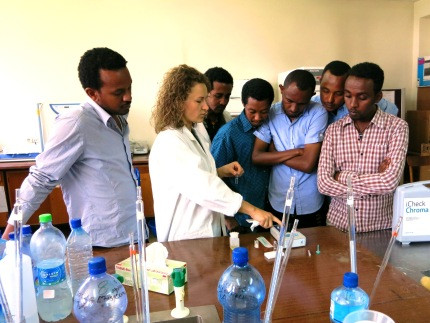 Background
Malnutrition is one of the main causes of diseases and death in developing and emerging countries. In this context, the transition from traditional towards western orientated nutrition habits is associated with the increase of overweight and related diseases such as diabetes mellitus type 2 and hypertension. This phenomenon is called the "Double Burden of Malnutrition" and represents a research focus of our department.
Research
One of the goals is the measurement of the micronutrient status (especially considering vitamin A, carotenoids, vitamin D, vitamin E etc.) in specific population groups and to evaluate the significance under the influence of so called Non-Communicable Diseases (NCD`s). In this context next to the micronutrients also relevant transport proteins (RBP4, TTR, VDBP) are considered as diagnostic markers1, 2. Furthermore the department is engaged in the development of rapid test methods for micronutrients (e.g. for carotenoids and iodine), which are designed for the easy usage in developing and emerging countries3, 4.
Next to these research projects the department is strongly engaged in the advanced training of international nutrition experts. In interdisciplinary Summer Schools that were organized by our department and took place in Germany, Thailand, Lao, Vietnam and Namibia topics like the double burden of malnutrition, nutrition during the whole life circle or future food were discussed. Further information about our Summer Schools can be found here.