Action-oriented learning in the VR paint shop (HandLeVR)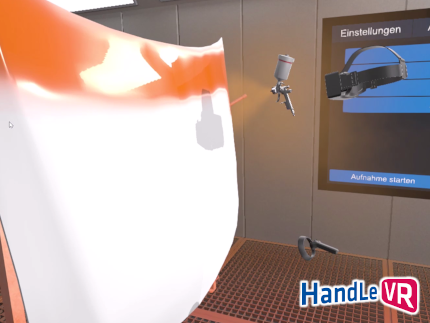 In terms of competence orientation in vocational education and training, it is necessary to implement action-oriented learning units with learning progress checks. This development of vocational action competence is also called for in framework curricula such as that of the training occupation of vehicle painters - but has so far been implemented only inadequately or inefficiently with regard to the resources used.
The central scientific objective of the HandLeVR project (funding reference number: 01PV18002A, duration: 01.01.2019 - 31.12.2021) funded by the Federal Ministry of Education and Research is to investigate the concrete contribution VR technologies make to facilitating action-oriented learning in vocational education and training and how these technologies can be didacticised to ensure learning success. Methodically, the approach of "Design-Based Research" (DBR) was chosen to combine this theoretical question with the practical goal of optimizing the paint training. The practical goal of the project is the complementary use of VR to promote the action-oriented learning of different techniques for applying individual paint layers on automotive workpieces by trainees. The central tool in HandLeVR is a VR learning environment - the VR paint shop.
The application scenario for the VR paint shop is based on didactic principles in the field of vocational training for vehicle painters. In individual or group training courses, various techniques for applying paint to workpieces (e.g. bonnet of a vehicle) are learned and practiced again and again during the three-year training.
On the one hand, these exercises are made possible by the VR paint shop to a greater extent than is ecologically, economically and health-wise sensible in reality. On the other hand, new exercise scenarios become conceivable (e.g. exotic workpieces or problem situations that are difficult to create in real life) and thus an added value is created in addition to the established, real-world training.
Depending on the equipment and size of the training company, it can offer the VR paint shop with its own VR equipment or have its trainees trained on VR systems in regional vocational training centres (or similar training locations).
At the digital Potsdam Science Days 2021, the HandLeVR was presented in a special exhibition in the DIGAREC Gallery 2.0. This was implemented via Mozilla Hubs and is accessible here via the browser.

The following video shows the exemplary execution of a learning task (status: January 2020):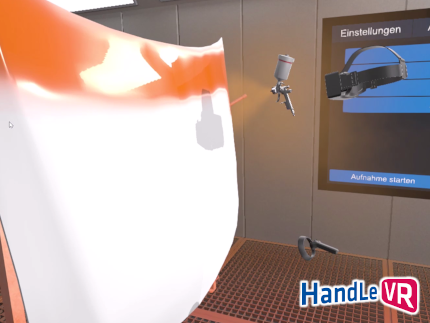 The project is coordinated and the technical implementation is carried out at the Chair for Complex Multimedia Application Architectures at the University of Potsdam. Further project partners are the Learning Lab of the University of Duisburg-Essen, the Central Office for Further Education in the Crafts (ZWH e.V.) and Mercedes-Benz Ludwigsfelde GmbH.
Up-to-date information on the progress of the project and further information can be found on the official project website:

Dr. Raphael Zender
Campus Griebnitzsee
Haus 4
Raum 1.21

Universität Potsdam
Institut für Informatik und Computational Science
August-Bebel-Straße 89
14482 Potsdam