Research Project III: Stop Bullying! A Theater Project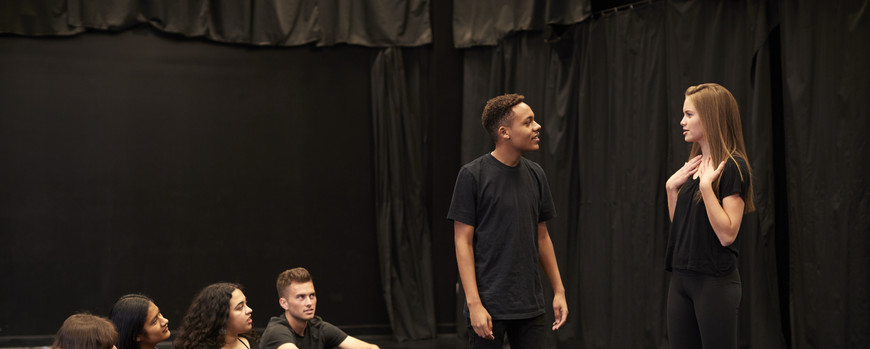 General Project
The research and teaching project "Stop Bullying! A Theater Project" focuses on promoting literacy, self-efficacy, and social interaction as well as staged play on the topic of bullying.
The theater project is implemented in schools during the transition from elementary to lower secondary school because a collaborative prevention project on bullying can create an inclusive learning culture (Booth & Ainscow, 2002). With its strong action orientation, a play is particularly appropriate in inclusive learning environments to promote literacy and strengthen the sense of community through collaborative play. School studies show that students exhibit barriers to educational progress when they lack literacy skills. At this point, our study targets the following questions and addresses the research needs of L1 didactics in inclusive learning groups.
(i) What reading skills (reading speed and reading comprehension) do the participating students show in reading literary texts at the beginning and at the end of the drama project compared to the control group (no treatment)?
(ii) What is the overall self-efficacy expectancy before and after participating in the theater project?
(iii) How can the participants be individually supported in the context of a theater project and what language support do they receive?
(iv) How do the participating students evaluate the social interaction in the context of the theater project from their perspective?
We hypothesize that the participants' reading speed, literary reading comprehension, and self-efficacy expectations can be promoted through the theater project. Furthermore, we investigate whether the theater project is positively evaluated by the students in the context of social interaction.
Current Status of the Project
Several practical projects in school and extracurricular fields as well as a research project (duration: 08/2021-01/2022) have been finished. All of our studies are designed to be cyclical and collaborative with teachers in the context of design-based research (Philippakos et al., 2021).
Are You a teacher and does our project arouse your curiosity?
Through this project, the collaboration between university research and school practice can be deepened. As a result of the project, best practice approaches should emerge in order to transfer them into teacher training methods and further education.
Are you a student and want to be part of our project?
We are always looking for committed students who are interested in supporting our project in the course of their final theses. The students from the bachelor's and master's degree programs in teaching can contact us.