"If your alliance was an animal? – It would be a chameleon"
from the video "The European University Alliance EDUC"
The Universities of Potsdam (Germany), Cagliari (Italy), Brno (Czechia), Pécs (Hungary), Paris-Nanterre (France) and Rennes 1 (France), Jaume I University (Spain) and the University of South-Eastern Norway are part of a European university alliance: The European Digital UniverCity or EDUC connects the universities and languages, the different disciplines and faculties and a large number of students, researchers, teachers and staff. In total, eight universities in seven countries are now part of this transformative alliance.
One of EDUC's working priorities is inclusion. The alliance creates a shared, inclusive space for people of diverse cultures, backgrounds and goals through strong and long-term connections between different student offices and the students of the universities themselves. Students with special needs are given special consideration in the development of new mobility and exchange programmes. With a focus on digitalisation, the Alliance creates spaces for European exchanges, support and joint discussions. As a community, EDUC develops new forms and ways to tackle the problems of the future together. Inclusion, mobility, networking and exchange are top priorities for EDUC.
What are the goals of the alliance?
The goal of the European Digital UniverCity (EDUC) Alliance is to create a European higher education area in which students, staff, teachers and researchers from the eight partner universities can learn, teach and work together. Jointly used digital infrastructures and services ensure networking between the universities and actors, especially in the area of teaching and learning. EDUC combines knowledge and university traditions from Western, Central and Eastern Europe. This enables the development of strong relationships between regions and a European perspective on the global challenges of the 21st century.
The European Digital UniverCity is characterized by close strategic cooperation between partners and the development of an agile, inclusive community of practice in teaching, research and mobility management.
EDUC pursues five strategic goals:
1. The integration of the European Higher Education Area
2. Europe-wide barrier-free studying
3. The integration of all students, teachers, researchers and employees
4. The promotion of a European identity
5. Working together on the challenges of the 21st century
How does the Allianz achieve its goals?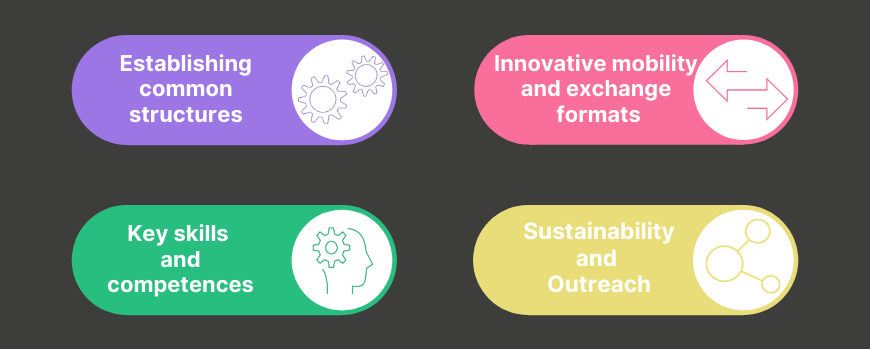 To achieve the goals of the Higher Education Alliance, all six partner universities are working on four major themes, or fields of action.
Establishment of structural foundations
Innovative mobility and exchange scenarios
Key skills and competencies
Sustainability and outreach
---
The structures and focal points of the EDUC Alliance are to be constantly improved. Therefor further projects are emerging from the Alliance to support EDUC's work: