Study Group CLIL / Chemistry:
"Water4Future: Teaching Sustainability in the bilingual Classroom"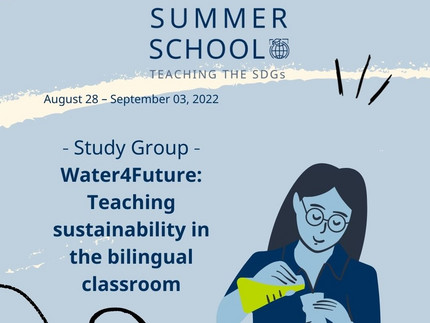 August 28 - September 3, 2022:
This interdisciplinary Study Group brought together future English and Chemistry teachers and focused on the "SDG 6 - Clean Water and Sanitation" by conducting an experiment and adapting it for a group of learners in a bilingual setting. The overall learning objective of the Study Group was that by the end of the Summer School, the students would be able to: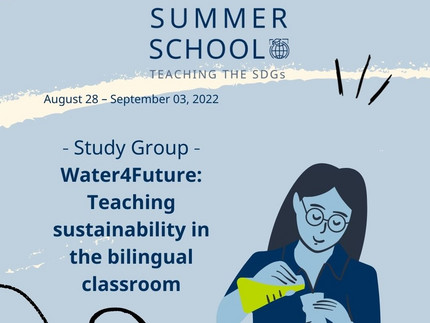 articulate coherent goals for Education for Sustainable Development and how these can shape teaching and learning in a variety of disciplines and educational settings,
develop lessons based on the principles of Content and Language Integrated Learning and Education for Sustainable Development,
apply integrative thinking into your lesson planning by drawing connections between local and global issues within the contexts of clean water and water purification,
communicate the water purification and recycling processes modeled in the experiment to the pupils who attended the student lab and work with them to evaluate large-scale implementation,
develop, adapt and use level and age-appropriate CLIL materials,
critically reflect on their own role as educators and the part they play in creating change within the classroom and beyond.
The process in the Study Group Chemistry/English has mostly been focused on the implementation of bilingual teaching in scientific subjects. In terms of content, the project dealt with possibilities for sustainable water purification and treatment. To this end, the students learned about a model experiment in which paper waste is converted into activated carbon, which is ultimately used for the filtration of aqueous solutions contaminated with dyes. The group worked on adapting materials for sixth-grade pupils, who visited the Study Group on campus on Thursday to take part in the project on a real-life basis. The student teachers independently led the school lab, gave a bilingual introductory lecture, supervised the pupils in the lab and finally evaluated the experiment with the help of the accompanying bilingual materials. They discussed the chemical background of adsorption as well as the possibilities of implementation in countries where water is contaminated with dyes on a daily basis due to the textile industry. The presentation on Friday focused mostly on the experiences of the Study Group while preparing for the visit from the school and as the pupils visited the university. The presentation the Chemistry and English student teachers held focused on the origin of the project, its importance for the world, the connection to the Sustainable Goals and the practical issues related to using the experiment and the materials developed in a bilingual context with sixth-grade pupils. The participants of the Study Group were able to collect experiences and to try out how natural sciences can be taught in a bilingual setting and how forward-looking approaches to sustainable technologies can be introduced to elementary school pupils.