Study Group Music Education:
"Music in a Changing World. How to advocate for Change through Music and in Music Education"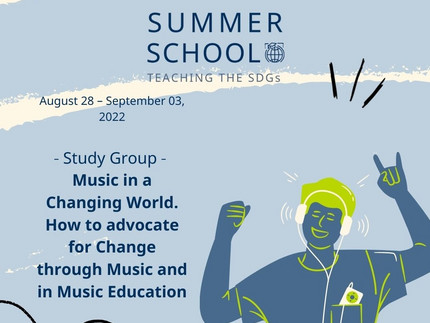 In order to meet the requirements of the developments towards an increased awareness of sustainability as well as approaches of intersectionality and global citizenship, school education and thus also music lessons must change. These changes are sustainable in the long term if they take place on three levels: 1. Values / attitudes, 2. Structures / resources and 3. Concrete practices. The vision of the Study Group Music was to advocate for sustainable music education at all three levels, focusing especially on the SDGs water (SDG 6), reduced inequalities (SDG 10), sustainable communities (SDG 11), responsible consumption & production (SDG 12) and climate action (SDG 13). In addition, the participants were expected to engage in discussions about how to address and promote the SDGs in the context of music education and to learn about practices for inclusive and sustainable music education.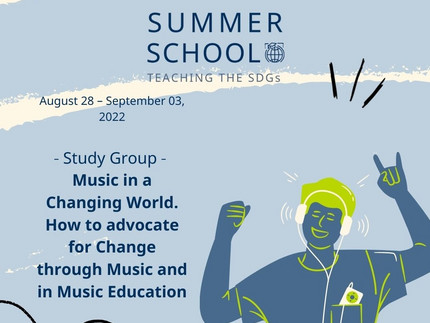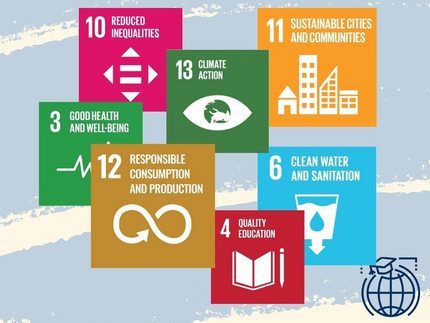 The participants of the Study Group Music used the week primarily for joint reflection on how music teaching can contribute to the topic of Education for Sustainable Development and Global Citizenship. The students exchanged ideas about concepts, methods and projects in their various countries of study that address the SDGs and collected values as well as concrete measures and methods for music teaching. During the week, the students became aware of how much music lessons as well as individual music projects already contribute to raising awareness about the SDGs and to achieving the goals.
Furthermore, the participants in the study group looked at how aspects of sustainability can be explicitly presented and communicated though music with the aim of arousing emotions and creating awareness for sustainability. As a result, the students of the Study Group created a soundscape as part of the presentation in which they musically represented the climate change as well as the desire for measures against the climate crisis.
Moreover, the students were able to learn about the method of soundpainting during a workshop. Soundpainting is a method of conducting through signs in which the ensemble reacts spontaneously. In this way, an improvised piece is created. The method combines some of the goals set by the SDGs such as inclusion as a common language is learned and thus language and knowledge barriers can be overcome. The joint soundpainting of the music students and the audience led by participants of the Study Group Music was the last part of the final presentation.