E-learning at the faculty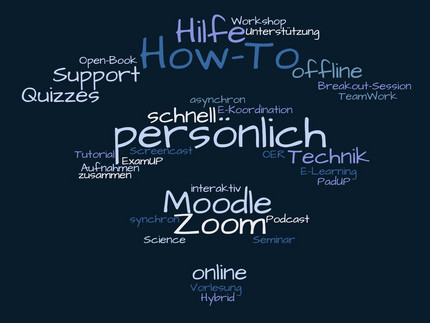 Welcome!
The e-learning coordination, i.e. we, want to support you in the age of Moodle courses, e-assessment, Zoom lectures, hybrid courses and co. Our goal is to make it easier for you to deal with all things related to e-learning, not only with advice, but especially with active, practical and individual help.
For inquiries, requests and suggestions do not hesitate to contact us!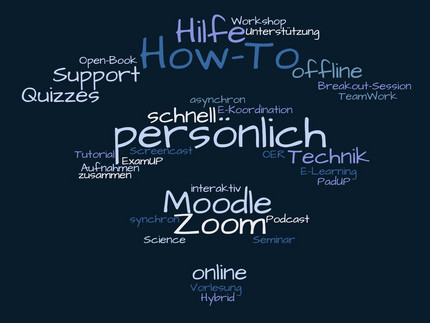 What is E-Learning?
"By e-learning in the context of higher education, we mean the didactically designed use of digital media with the aim of increasing the quality of existing offerings, making offerings more effective, realizing new scenarios, and developing new forms of study and teaching.
E-learning also enables innovations beyond studying and teaching, for example in research, continuing education, transfer or administration."
taken and translated from E-Learning-Strategie der Universität Potsdam
What do we help with?
We help you with all questions and problems around e-learning. Especially with questions around Zoom, Moodle courses (structure and design), lecture recordings and editing, Camtasia, conception of OpenBook exams, Excel, Powerpoint etc..
We also support you in the didactic planning and design of the online components of your events and the technical implementation.
You do not find your request here? Of course we are still happy to help you. Just send us an email or give us a call.
Who do we help?
All teachers (from tutors to professors) and students of the Science faculty. You belong to another faculty? Here you can find your contact person
How do we help?
Mail support, provision and production of manuals, Zoom meetings with personal contact person or plenum, taking over research on documentation sites, creating presentations around the use of UP tools or Zoom, Moodle and Co., checking created Moodle courses for technical errors, potential for improvement etc. and, and, and ...
E-Learning Coordinator
Universität Potsdam
Campus Golm
Karl-Liebknecht-Str. 24-25
Haus 9 - Raum 3.16
14476 Potsdam OT Golm