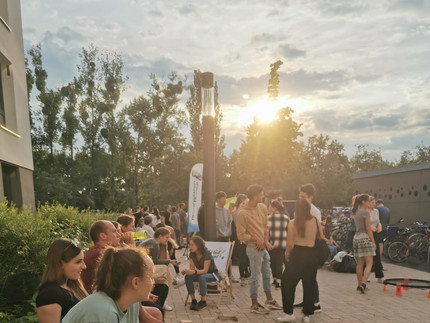 Three weeks, three dorms. That is the mission of our Tour de Wohnheim in summer 2023!
Together with the Feel Good Campus and the Studentenwerk Potsdam, we will come to your dorm to add a little variety to your daily study routine.
Starting at 4 p.m. we will kick off the afternoon with tournaments. Boccia, Kubb, Roundnet or table tennis - there should be something for everyone. Also some side games are available for your further amusement.
In the evening we will start the party. A round of drink yoga provides the necessary warm-up, before it goes with different live acts into the sunset.
You can strengthen yourself at the food hopper of the Studentenwerk, which will offer culinary delicacies. Simply get your evening meal and join us.
Best of all - the entire offer is free and takes place right at your doorstep! Come by, join us and enjoy the summer at the Tour de Wohnheim.