Business-related knowledge and technology transfer
Scientific management: Prof. Dr. Uta Herbst
Project management: Dr. rer. nat. Ute Rzeha

Scientific team:
Dipl.-Biologist Susanne Schilling
Dr. rer. nat. Caroline Reid
Nicole Frank
Project description
In business-related technology transfer, the focus is primarily on developing the existing innovation and exploitation potential at the university and harnessing it promptly for exploitation in small and medium-sized enterprises in the Brandenburg region. Conversely, it is a matter of identifying questions from industry, determining the requirements and needs for research services and technologies and finding scientific partners. The aim is to link the know-how of the scientists with the requirements of the companies. Science and industry must maintain a close dialogue and use the existing R&D potential for co-operation and joint projects. The university's technology transfer service offers companies a platform to find suitable scientific partners for their innovation and growth processes and removes barriers to research and development services.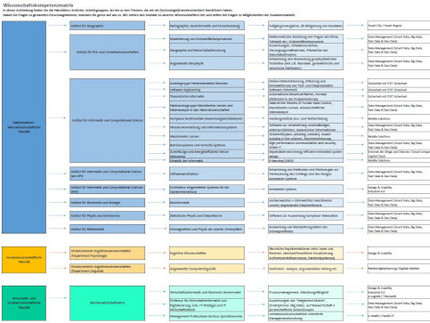 Within the framework of the project, a so-called scientific competence matrix has been developed. This is an overview of technology transfer-relevant working groups and disciplines of the University of Potsdam. If you are interested in these or similar fields, please do not hesitate to contact us.
You can download the Science Competence Matrix as a PDF file here.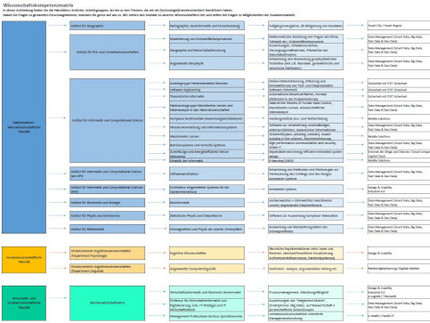 Emphasis of activities in the transfer service:

Sensitisation and initiation of R&D projects between universities and non-university research institutions and companies
As intermediaries, we seek to make contact between industry players and scientists from the University of Potsdam for joint projects, following initial requests from either the scientists or from the industry.
Constant exchange with scientists in order to keep up to date with the latest research and to suggest suitable co-operation partners as quickly as possible.
Establishing new contacts with companies, highlighting research potential and offering research services - realized through on-site visits
Visits to transfer-relevant (specialist) events and trade fairs (demand orientation)
Inclusion of skilled enterprises in transfer work - Establishing contact with regional skilled trades and identifying needs
Recording enquiries and needs from industry and providing support up to project initiation - Carrying out interviews and discussions in companies
Maintaining contacts between companies and scientists - organisation of joint meetings for exchange, invitation to transfer events, regular contacts
Organisation of specialist events on technology transfer related to the cluster and joint content design with the cluster managers
Regional presentations and trade fair appearances to find co-operation partners from industry
Regular exchange with the individual cluster managers regarding requirements from the companies and the latest R&D results for commercial exploitation
Search for co-operation partners for the scientists with the help of the cluster managers, similarly the cluster managers contact the transfer office when searching scientific partners for industry.
Preparation of information materials for the transfer work for the individual clusters
Duration: 01.01.2018 - 31.12.2020
This project is supported by the State of Brandenburg and the European Regional Development Fund.