Description of the Project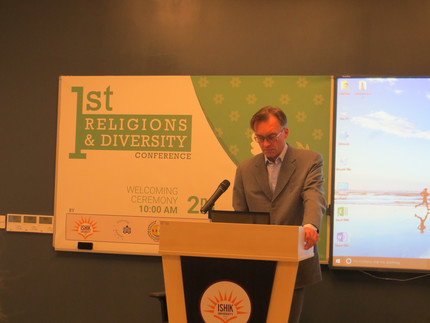 1.1. Situation
According to the political development since 1991 there were several ethnic displacements, military influence and migration in the autonomous region of Kurdistan and this led to a new alignment of the religious milieu. The new Iraqi constitution of 2005 has defined Islam as the state religion (article 2). At the same time, it acknowledges religious plurality (article 3). In the article 14, discrimination on the grounds of religious conviction is excluded and freedom of belief is guaranteed. At the referendum for autonomy in the region Kurdistan on August 27, we will deepen the problems of Christian minorities, who hope since 2003 for a partial autonomy of the Christian dominated Nineveh region within the state of Iraq. Yet there is the expectation that the differentiation of political and religious power will grow in the self-understanding of religious communities. There is the hope that the autonomous region Kurdistan will become a model for the future according to this legal frame work and constitutional reality, a model for living together for religious cultures and religious communities in the whole Middle East.
1.2. Time Frame
The institute Religionswissenschaft und Jüdische Studien of the University Potsdam is planning to establish a partnership with three universities: Ishik University, Catholic University, Salahaddin University in Erbil. It can look back on many experiences and a long tradition from cooperation with universities in Iran: The Alzahra University in Teheran and University of Religions and Denomination in Qom. We apply for funds for the time between summer semester 2018 and the winter semester 2020.
- In March 2018 there will be information journey and first congress with all three universities in Erbil.
- In September 2018 there will be invited a delegation of professors from the three universities to Germany in order to get in contact with Zentrum for Qualitätsmanagement (Center for Quality and Science Management) and the Potsdam Graduate School.
- In March 2019, there will be held a Summer School in Potsdam under the topic "Religions and Diversity".
- In Winter Semester 2019 three professors from Erbil will conduct seminars in different study programs in Potsdam. Here, they will get to know the conditions of seminar planning and seminar praxis according to the Bologna System in Germany.
- In March 2020 we plan an evaluation and planning meeting in Erbil.
- In September 2020 two professors from Potsdam will go for a longer visit and lectures and workshops to one of the universities in Erbil

1.3. Goals of the Project
The three universities have been contacted in autumn 2016 by Dr. Gatzhammer and assistant professor Kadir Sanci. They visited those universities in April 2017 for a week. The contacts showed that certain fields of cooperation were viable. The universities have very different agencies. An Ishik university is a private university founded by the Hismet movement. Catholic University is an ecclesial institution organized by the arch diocese. Salahaddin University is a state institution. Although they are quite different institutionally, the three universities face the same challenge: to rebuilt their structures after the war in Iraq and Syria. This doesn't refer to the financial and technical equipment but also to the shape and the contents of their study programs. It is the goal to formulate the common need of the three universities and to translate it into programs. Ishik University will have a leading role here since they underwent international accreditation procedure last year.

1.3.1. Disciplinary Development: Module Religious Diversity (Goal 1)
Apart from the disciplinary direction of each university – Ishik and Catholic have a social, business and technical focus, Salahaddin is a full university – all the three universities signaled that students should have an overview and an insight in the teachings of the religions and their relationships to each other. Kurdistan is a region between Mesopotamia and the mountainous area and therefore is a key region for religious history and religious study interests because there we do not only find the Abrahamic religions in their denominational diversity (Chaldeans, Syrian Catholic, Assyrian, Syrian Orthodox, Sunni Hanafitic, Sunni Shafi'itic, Shi'it) but also Jews and a variety of smaller communities like the Yezidis, the Yarsanis, Shabak and others.
In order to build a plural society, it needs a dialogical basic understanding in society. Since time being different forms of Islam and different Christian churches are settling in this region which partly accept or even reject each other's faiths. Ethnic and religious differences have been deepened by migration and the brake down of Christian-Muslim coexistence during the war. Therefor we need a module in university programs where the plurality of religious expressions with the religions in Kurdistan and the relations in between the religions is investigated systematically and historically. The module will not only present models of tolerance but also of theological meaning of the other religion in one's own religion. A special focus will be on phenomenon of syncretism of which we find many examples in Kurdistan.
In the aftermath of modernization in the Kurdish region there are also tendencies to differentiate the religious field from the political sphere and secular life styles. Therefore, the module should also discuss the relationship of religion to its non-religious environment (the relation between religious and state law, the significance of religion in the public sphere, the loyalty or distance of religious people to the state). Secularization is seen in many Islamic countries as something very critical because they consider it to be an anti-religious phenomenon. He reason is that most Muslims see religion as part of the human nature (fiṭra) and the membership in a religious community is expected. The module will be designed in such a way that interreligious plurality of religion will be investigated or analyzed in a comparatist or interdisciplinary way (secular religious studies, theology, law of religion, Islamic studies). The module will be a kind of Studium generale overarching all three universities. It will contain legal and theological aspects in order to take intrareligious perspectives as well as distant observing perspectives.

1.3.2. Organizational Development/ Forms of Science Management (Goal 2)
German universities have a rich experience with the Bologna reform, which means the restructuring of study programs, which in many cases led to an over bureaucratization. Yet we want to present the good element of this reform. Selected professors from Erbil will convene with experienced professors and Quality management staff from Potsdam to develop practical and applicable forms of Science Management in order to apply the assets of the Bologna reform, like:
- The coordination of seminars and study programs
- The anticipation of employability
- The orientation according to growth of competence (not only knowledge
- The self-correction by ongoing evaluations…
This also encloses technical aspects like the administration of grades and courses as well as the university didactics and interactives forms and self-guided research. We know from our friends that because of the special tradition of teaching and learning in Erbil there are few innovative formats of teaching beyond a doctrinal text book style.

1.3.3. Common Research Project (Goal 3)
In Potsdam, we did a bigger project of city mapping religions (Religionen in Potsdam) where we visited and portrayed all religious communities – from established traditional churches to newly founded Yoga studios – and we showed their relationships among each other, the migration of followers and believers and the religious governance of state and city. This field research needs a lot of knowledge in the history of confessions, denominations and religions and sociology of religion. Also Erbil (1,5m.) is much bigger than Potsdam (150.000); we want to transfer these experiences ("into a city mapping Erbil"). Together with students and professors we plan to draw a landscape minority-majority-relation, the plurality of religions, the different forms of parishes (mosques), the different ethnic constitution… This survey will not only foster the knowledge of religious communities but also the empathy for other religions and the application comparative analysis and fair description of foreign groups. The goal of the project is beyond the mapping comparison of forms of community and of the development of a religious community within an urban context (often they are very different in the rural context).

1.4. Logic
The logic of the project presupposes that each contribution to an organizational development cannot only be done by abstract lectures but by combining it with examples and experiences from within the disciplines and the lives of the participants. Therefore, we put an emphasis on the dialogue of culture and religion which is necessary in this challenged region as the main goal (Goal 1 and 3). The participants should use this cross-disciplinary exchange on religion and their diversity in order to widen their own horizon and to see the role of their own religion and their own culture in order to get intercultural competence. Within working for these goals we can address questions of science management and university management (goal 2). In order to reach this goal, we will not only include researcher and scholars, but also administration staff members especially from the quality management.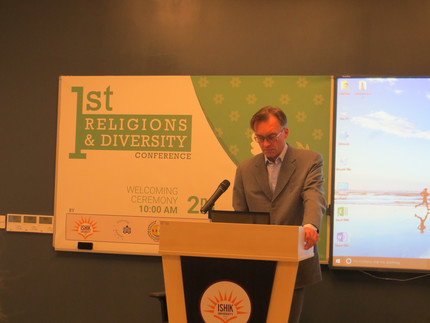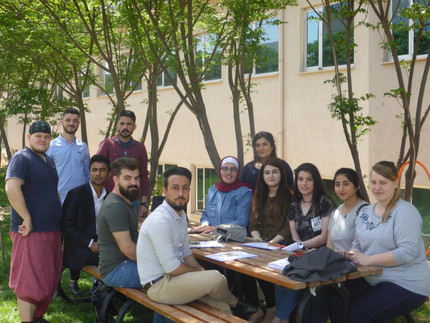 Origins of the Project
Since 2010, the University of Potsdam has offered courses in the series "Comparative Religious Law of Jews, Christians, and Muslims," which have attracted great interest from students. The course instructors are staff members from the Department of Jewish Studies and Religious Studies, the School of Jewish Theology, and the Canonical Law Institute at the University of Potsdam. The series also includes seminars such as "State and Religion(s) in International Comparison" (since summer semester 2010), "Religions in Kurdistan" (summer semester 2016) and regular study trips to Southeastern Anatolia, Istanbul, Israel, and Iran.
As part of the collaborations with Turkish and Iranian universities and the study visits to these two countries, there was also a growing interest in a deeper analysis of how the religious cultures and religious communities in the Middle East evolved to coexist with one another, especially in Iraq.
This interest in possible cooperation with Iraqi universities was reinforced when Mr. Kadir Sanci met with Prof. Ahmet Öztaş, rector of Ishik University in Erbil, at a conference in Berlin in May 2016.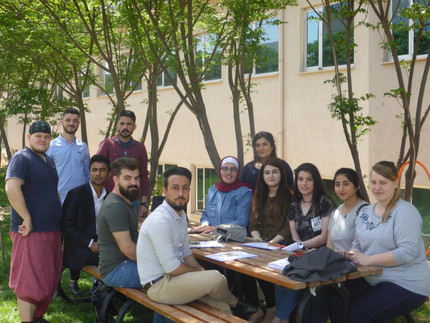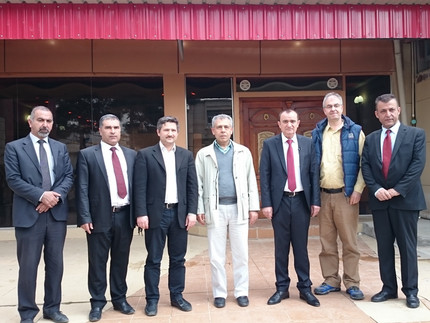 As official guests of Ishik University Erbil, they took part in various official meetings and discussions with figures at the following institutions and facilities:
In Erbil:
- Prof. Ahmet Öztaş, Rector, Ishik University,
- Dr. Huseyin Cakillikoyak, Dean, and Dr. Ergün Capan, research assistant, Faculty of Law, Ishik University
- Nawar Oghanna, Chancellor, Catholic University (representing the rector)
- Prof. Muhammad Shakir Seto, Dean, Department of Islamic Studies, Salahaddin University
- Archbishop Bashar Warda, Chaldean Catholic Church
- Military chaplain Jörg Plümper, Bundeswehr in Erbil
- Vice Consul Christoph Burger, German Consulate General
- Jwan Khalis, Director, DAAD Office
- Wasfi Yassin Othman, Vice General-Director, Fezalar Company (also representing the Turkmen minority)
- Dr. Abdurrezzak Aly, Director, "Voice of Kurdistan" Radio, and Journalist, Hawler newspaper
- Bünyamin Sen, Director and Founder, Radio Dewran
- Esin Erdag, Leiterin der Ishik Brayaty Kindergarten School
In Alqosh: Father Aram Quiah, Catholic Bishop's House
In Alqosh/Batnaya: Father Salar Kajo, Nineveh Reconstruction Committee
In Batnaya/Tel Esquof: Parishioners of the Chaldean parish
In Dohuk: Administrators and teachers' association from Ishik School
In Lalish: Congregation members at the Yezidi temple
In Sulaymaniyah:
- Dr. Doğan Özdemir, Vice President, Ishik University, Sulaymaniyah Campus
- Babekir Dreyi, Director, City Cultural Association
- Pater Jens Petzold, Maryam al-Adhra Cloister / Refugee Center
- Miran Hamid, Director, Horizon Relief Organization
- Ekrem Oksar, Manager, Dialogue and Culture Centre
- Najmadin Shamsawayi, Director, Association of Academics
- Dr. Muhammed Penguino, Member, Fatwa Committee, and Research Assistant, Dept. of Islamic Studies
- Dr. Nasih Fatah, Member, Fatwa Committee, and Research Assistant, Dept. of Islamic Studies
- Dr. Ahmed Shafi'i, Member, Kurdistan Fatwa Committee, and Research Assistant, Dept. of Islamic Studies
- Khalid Doski, Minister of Culture and Youth, Kurdistan Regional Government
As a result of the fact-finding trip in March 2017, the existing contacts with Ishik University in Erbil were intensified. There was an opportunity to meet and exchange views with additional representatives of this university, in addition to the contact with then rector Prof. Ahmet Öztaş (now in charge of international relations at the University):
- Dr. Idris Hadi Salih, President, Ishik University
- Dr. Huseyin Cakillikoyak, Dean, Faculty of Law
- Dr. Ergün Capan, Research Assistant, Islamic Legal Doctrine, Faculty of Law
- Ibrahim Kuloĝlu, Research Assistant and Public Relations
A talk at the Catholic University in Erbil and a reception at the Salahaddin University Erbil that included the dean of the Faculty of Theology, Prof. Muhammad Shakir Seto, as well as all instructors in this department, made it possible to also establish networks at two other universities in Erbil. As a result, all three universities agreed to be partners in the project, so that memorandums of understanding could be concluded with these three partners afterward, in July and August of 2017.