Participation in our studies
Psychology or linguistic students can receive "experiment credits", everyone else will receive financial compensation.
How?
To get information about currently running studies and to make appointments, you can register with the SONA recruiting system:
https://uni-potsdam.sona-systems.com
Appointments can also be made by email at eyelabuuni-potsdampde, by phone (0331-9772155), or directly at House 14, 4th floor, room 4.20, daily from 9am to 4pm. In case we are not in, please leave a message with your phone number for a return call or leave a note in the post box in front of room 4.20.
Please note:
For these experiments participants are required not to wear make-up. In addition, it is useful for people, who wear contact lenses, to take their contact lens containers and glasses along, in order to be able to find the best settings for the eye trackers.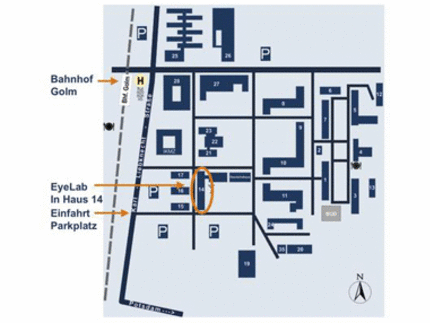 Where?
The EyeLab is located in the House of Cognitive Science (House 14) on the 4th floor in Golm (registration in room 4.20). We can be reached by car, bike or public transportation.
How to get there

Available public transportation from Potsdam main station:
buses: 605, 606, X5
trains: RB20 to Oranienburg (via Hennigsdorf), RB21 to Wustermark, RB22 to Königs
Wusterhausen
Links for public transportation: