Course of Studies: Master of Arts in Education | StO 2019
---
Information on the Degree Programme
In complex knowledge-based societies, institutionalised educational processes are becoming increasingly important in all areas and across the entirety of people's lives. In the Master's in Education, you will deal, in a research-oriented manner, with educational processes in institutionalised learning environments. Another focus of the study programme is the professionalisation of educational staff. You will deepen your conceptual and methodological knowledge in the educational sciences and prepare yourself to work in administrative roles in institutions that deal with educational research and educational processes as well as the management of educational systems. This degree programme is research-based, qualifies you for independent work in educational science and, through the mandatory work placement, also offers you real-world professional insights into the current areas in which educational science can be applied.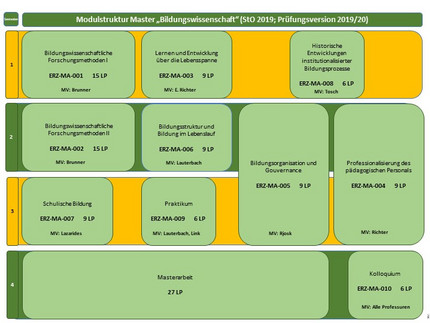 Content of the Programme
In the Master's in Education, you will deal with institutionalised educational processes and the professionalisation of educators. One substantive focus is on research into the institution of the school. This will entail, additionally, an in-depth study of concepts and methods of empirical educational research. Quantitative and qualitative research methods include, for example, descriptive and inferential statistical procedures, sampling procedures, video analysis, as well as document and content analysis. Over the four-semester (two year) Master's in Education, the thematic focal points will be on lifelong learning and development, educational structure and lifelong education, educational organisation and governance, as well as historical developments in institutionalised educational processes. A compulsory work placement will help students gain in-depth insights into a professional field relevant to educational science.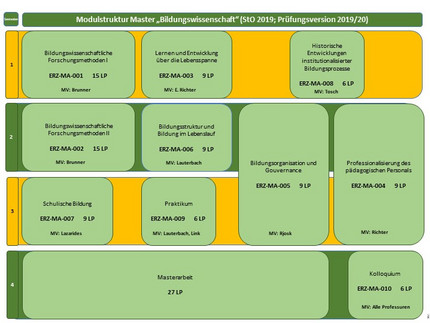 Study Aims and Future Career Options
The research-oriented Master's in Education enables you to acquire skills in the analysis, evaluation and planning of complex educational processes in institutionalised educational environments, particularly through quantitative empirical research. The degree programme enables you to analyse institutionalised educational processes and to help expertly shape developments in education, and support the professionalisation of educational personnel. The competences acquired in the Master's in Education will prepare you to work conceptually, implementing and leading activities in research institutions, local authorities, government departments and other administrative and educational institutions.
Future professional fields might include:
Advising educational institutions (especially schools)
Planning and management of educational systems
Training and further education
Personnel and organisational development
Management consultancy
Leading activities in education departments
Media agencies and media-based pedagogical activities
Teaching and research
Due to the high research relevance of the programme, you will also have the opportunity to continue your academic education in the form of a PhD in one of the fields covered in this master's programme.
Structure of the Programme
Within the framework of the four-semester (two-year) programme, you will earn a total of 120 credit points from a combination of the following modules and your final dissertation. For further information, please consult the subject-specific study regulations or the subject advisory service.
PROGRAMME CONTENT AND SCOPE OF STUDY

Modules

Credit Points

Educational Research Methods I

15

Educational Research Methods II

15

Lifelong Learning and Development

9

Professionalisation of teaching staff

9

Educational organisation and governance

9

Educational structure and lifelong education

9

School education

9

Historical developments of institutionalised educational processes

6

Work placement

6

Colloquium

6

Master's dissertation

27
Application to the Programme
So you've decided to study for a Master's in Education at the University of Potsdam! You can find more information about the application process by visiting the Central Student Advisory Service.