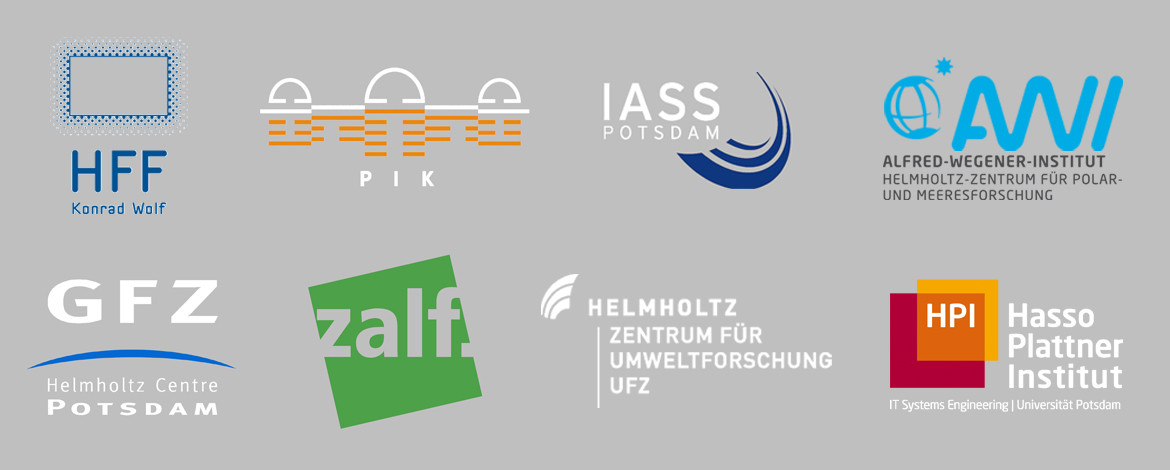 Interdisciplinary work within the University is essential for our focus area, as is our close cooperation in networks such as pearls and Geo.X, yet our close relationships with extramural research institutions and universities near Potsdam are also crucial. Our focus area profits in research and teaching from more than 20 jointly appointed professors, as well as strategic scientific cooperation with the following institutions:
AWI - Alfred Wegener Institute for Polar and Marine Research > Potsdam Office
GFZ - Helmholtz Center Potsdam / German Research Center for Geosciences
PIK - Potsdam Institute for Climate Impact Research
HPI - Hasso Plattner Institute for Software Systems Technology GmbH
ZALF - Leibniz Center for Agricultural Land Research Müncheberg
UFZ - Helmholtz Center for Environmental Research
IASS - Institute for Advanced Sustainability Studies e.V.
IRS - Leibniz Institute for Regional Development and Structural Planning Erkner
FUKW - Konrad Wolf Film University in Babelsberg
DLR - German Center for Aeronautics
These close relationships have led to success in the procurement of projects in special research areas (SFB), priority programs (SPP) and research groups (FG) at the German Research Foundation (DFG), at the Federal Ministry of Education and Research (BMBF), and in the European Union (EU). These also include joint products in graduate education.
Close cooperative relationships exist with the following working groups:
Biology (evolutionary biology and special zoology - R. Tiedemann; vegetation ecology and natural conservation - F. Jeltsch),
Physics (non-linear dynamics - J. Kurths, PIK and N. Seehafer),
Mathematics (applied mathematics - M. Holschneider; numerical analysis - H. Schachtzabel),
Chemistry (physical chemistry - H.-G. Löhmannsröben)
Potsdam Center for Policy and Management (PCPM - W. Jann, A. Liese, K. Kern).
Cooperation in these fields have already led to interdisciplinary professorships (including the Professor for Urban Infrastructure Systems and Global Change; the Professor for Geography and Natural Risk Research; and the Professor for Climate Change and Sustainability). In addition, transdisciplinary cooperation results in new priority programs in research and teaching. These include in particular the interdisciplinary graduate programs as well as the joint focus area priority in the earth sciences, as well as geogovernance policy, administration and management.