Welcome to the BabyLAB of the University of Potsdam!
We investigate the development of children from the age of 4 months onwards. In our team, developmental psychologists and linguists study children's cognitive abilities and language acquisition. Our lab is situated on the Campus Golm of the University of Potsdam (for a detailed description of how to find us, please click here).
If you are interested in participating in one of our studies, please have a look at the parent information section where you can register for a study online. There you will also find information about our current studies, our research methods as well as frequently asked questions (FAQs).
Little participants needed for online study
Since we are currently unable to run studies in the BabyLAB, we set up our very first online study on 14th of May 2020 in which your child can participate conveniently from home at a time that suits you best. The study is called "Noisy animals – animal noises" and takes only 5 minutes. We are looking for many children between 2 and 4 years of age who would like to assign animal noises to the matching animal pictures. The task is delivered on a computer via your internet browser. More information can be found on the study website (only in German - sorry!).
There you will find also the link to start the task. Participation is anonymous, no personal information is collected.
We would be delighted if as many children as possible would try it out and hope you all have fun!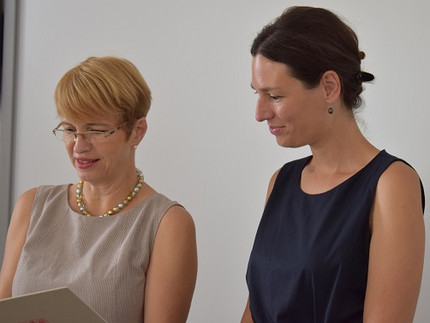 New Junior Professor for Developmental Psycholinguistics
On Monday, June 24th 2019, Dr. Natalie Boll-Avetisyan was appointed Junior Professor for Developmental Psycholinguistics. The image shows her receiving the appointment certificate from the Minister of Science, Research and Cultural Affairs, Dr. Martina Münch. We congratulate and look forward to our continuing collaboration!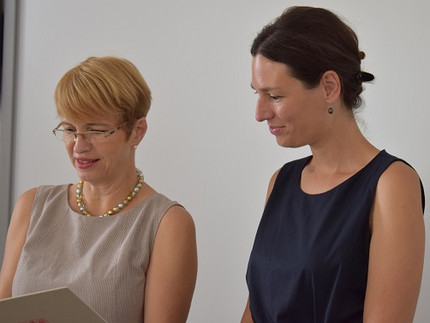 Highlights
BabyLAB running team at the Corporate Challenge Potsdam (Firmenlauf)
This year the BabyLAB took part in the 11th Corporate Challenge Potsdam. The running team of 9 runners enjoyed the 5 km scenic route and had fun before and after.
The BabyLAB at the 7th Potsdam Day of the Sciences
We have been present with demonstrations and hands-on experiments at the seventh Potsdam Day of the Sciences on May 11, 2019 at the University of Applied Sciences Potsdam. Many families and guests paid us a visit and were informed about our research, tried out different test procedures (such as the visualisation of tongue movements with ultrasound) and discussed findings. We were very happy with the high number of guests.
Project meeting in Munich
The members of the Crossing project, amongst them many researchers from the BabyLAB Potsdam, have met in Munich on February 13-16, 2018 to discuss results and to plan the next steps.