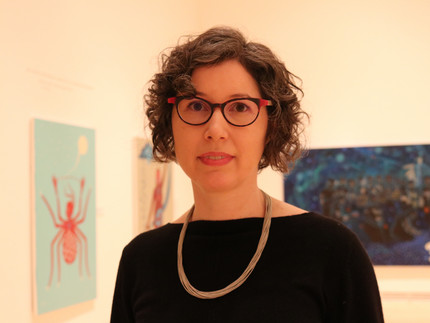 Sarah Casteel is Professor in the Department of English at Carleton University, Canada where she teaches postcolonial and diaspora literatures. Her research areas include Caribbean literature and hemispheric approaches to the literatures of the Americas as well as theories of diaspora and transnationalism. She is particularly interested in the emerging conversations between postcolonial and Jewish/Holocaust studies.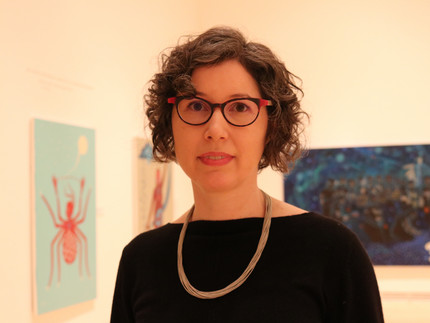 Interview with Prof. Casteel (summer term 2021)
Where will you be teaching from, now that you cannot come to Potsdam in person?
I will be teaching from my home in Ottawa, Canada. Because of the pandemic, Carleton University's campus (where my office is located) is not readily accessible at present. I'm afraid this means students may occasionally hear my children or my dog Monty in the background, but we'll try to keep that to a minimum!

What are you looking forward to in the months that you will be spending with us?
I'm very sorry not to be able to travel to Germany and meet the students in person, but I've discovered this year that it's still possible to make meaningful connections with students via Zoom. I look forward very much to hearing the students' perspectives on the materials that we will be addressing. For me, teaching literature is not only about imparting knowledge but also about dialogue and the exchange of ideas, about teasing out the meaning of a literary text together. I'm especially interested to learn how University of Potsdam students think about questions of memory and identity, diaspora and migration—questions that have become more urgent in our current political moment but that take on different meanings in different national and cultural settings.
One of the courses that I will be teaching at Potsdam addresses Holocaust memory in a comparative and global context. I understand that this is a subject of considerable debate currently in Germany, so I will be especially curious to hear the students' perspectives on that debate. And of course I look forward to sharing with Potsdam students my vantage point as a Canadian scholar and the insights I have gained through my training as a Caribbeanist and as someone who is currently engaged with the "colonial turn" in Holocaust and Jewish studies.

What does our MA programme's name "Anglophone Modernities in Literature and Culture" mean to you?
I really appreciate that your program uses the term Anglophone rather than English. I've often thought that English is a misnomer and doesn't reflect the transnational and transcultural scope of our discipline. Much of my career has been devoted to breaking away from the nation as the unit of study, so I'm interested in tracing the transnational and global trajectories of English and the shift from "English literature" to "global Anglophone literatures." From the perspective of Caribbean studies, for example, we can think about how the English language is creolized, revitalized, and transformed by Caribbean writers.
I also think it's wonderful that you encompass not only literature but also culture. My teaching and research have become increasingly interdisciplinary lately. I'm cross-appointed at Carleton to a cultural studies program that includes music, art, and film alongside literature. Right now in my own research I'm particularly engaged with visual art. Accordingly, I have incorporated works of visual art (including portraiture and photomontage) into some of the syllabi I designed for my classes at Potsdam.
Finally, modernities. When I think about modernity I think of how postcolonial writers have challenged the idea that modernity emanates from Europe. Instead, they show how much of what we consider modern was produced through the interaction of the European metropole with the so-called colonial "periphery." For example, Derek Walcott's poem Tiepolo's Hound, which I'll be teaching in one of the classes, resituates French Impressionism by suggesting that it originated in the Caribbean perspective and formation of the St. Thomas-born Sephardic Jewish painter Camille Pissarro.