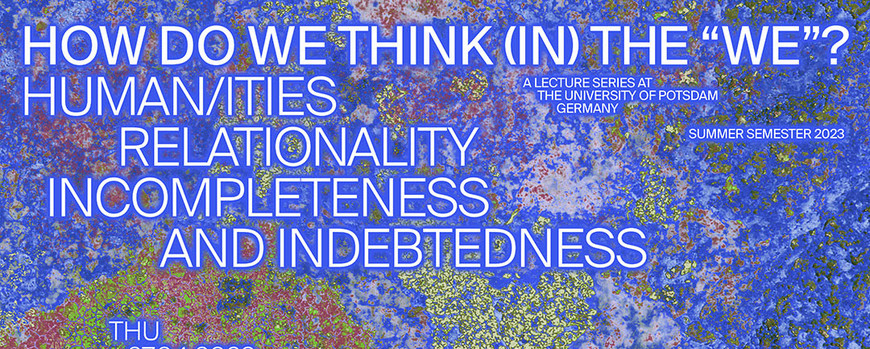 In this lecture series, we aim to think in configurations of "we"s, and neither in a universal "I" nor in a universal "we", that denote property, ownership, and individuality so embedded in neoliberal sociality. We want to consider who makes up the "we", its possibilities and limits in its multiple configurations and challenges. The labour of meaning-making and creating together, in spite of conditions of inequality, is the starting point of this conversation. In conceiving and perceiving multiple worlds, and contesting inherent injustices, we recognise that thinking in the "we" requires conversation and exchange, but also care and reparations in the pluriverse.
We are happy to collaborate with scholars, artists, workers and activists to engage in conversations about rethinking humanity, kinship and solidarity with (more-than-)humans, vulnerability and humanitarian regimes, the future(s) of world literature, and feminism beyond borders.
Program:
27.04.2023:
The Global and the Planetary: Thinking CoFutures,
Dr. Bodhisattva Chattopadhyay

01.06.2023:
Weak Resistance and Solidarity in Contemporary Borderlands,
Dr. Ewa Majewska

15.06.2023: (Online at 10 am CET):
An Oceanic 'We': Poetry, Solidarity, and Multispecies Justice in the Pacific,
Dr. Craig Santos Perez

29.06.2023: (Room 211, Institut für Europäische Ethnologie at Humboldt-Universität zu Berlin)
Beyond Vulnerability: Rethinking Humanitarian Governance and Interventions, a joint lecture and conversation with
Dr. Lewis Turner and Dr. Fadi Saleh

09.07.2023:
Rethinking Humanity (at Gropius Bau, Berlin)
hn. Lyonga
Where?
Lectures will be at Campus Neues Palais of the University of Potsdam (unless stated otherwise), Building 9, Room 1.12.
Address:
University of Potsdam,
Am Neuen Palais 10
14469 Potsdam
Time
Lectures will take place from 16.00 to 18.00 CET, unless stated otherwise.