We study plasmonic excitations in the contexts of soft matter and light-driven chemical reactions at nanoscale metals.
We prepare colloidal samples and investigate how the plasmon resonance can be tuned via layer-by-layer deposition of polyelectrolytes.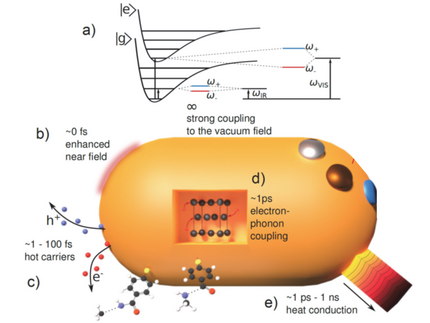 Schematic representation of the relevant fundamental primary processes occurring at nanoscale metals and a connection to the schematic representation of a catalytic cycle.
a) Even in the absence of light, the field enhancement amplifies electromagnetic vacuum fluctuations which modify potential energy surfaces by strong coupling. The timing of the other processes is essential: When a photon arrives, b) its electric field is enhanced in the near field. The LSP decays within few femtoseconds (fs) to c) hot electrons and holes, where initially a single electron or electron-hole pair carries the entire photon energy. Electrons equilibrate to a Fermi-Dirac distribution within <100 fs and d) electron-phonon coupling transfers the heat to vibrations within ~1 ps. e) The heat energy of electrons and phonons is conducted on all timescales. The secondary amide molecule sketched at the bottom is fragmented along two different pathways, depending on whether hot electrons as in c) or vibrational heat as in e) dominate.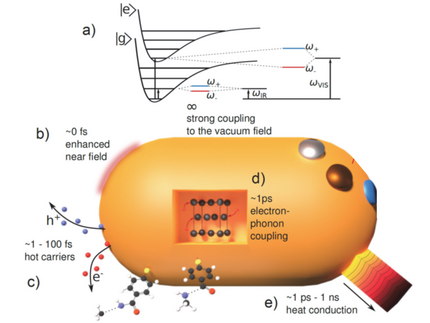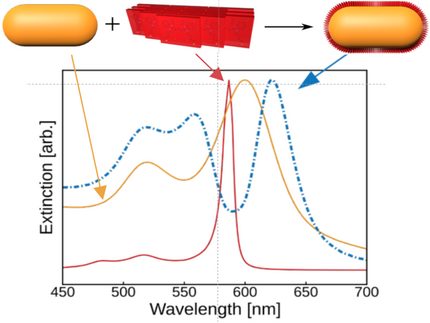 When the nanoparticles are coated with molecular layers that exhibit strong absorption at the plasmon resonance of the metallic core, a strong coupling of the excitations can result in hybrid polaritonic states that exhibit a splitting of the resonances. The localized surface plasmon polaritons can be confined to very small mode volumes of nanoparticles, such that the coupling strength exceeds all dissipation channels. This is the regime of strong coupling. A related phenomenon is the bleaching of the hybrid absorption resonances by the very intense vacuum fluctuations that are present even in the absence of light.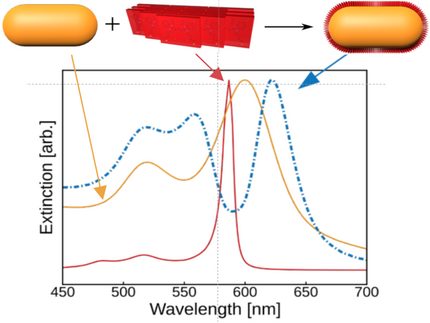 "Plasmon"-driven chemistry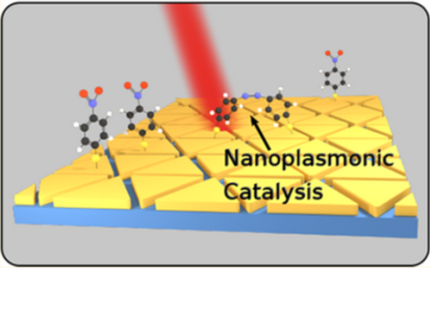 "Plasmon"-driven chemistry is an emerging field at the interface of nanophysics and photochemistry. We have focused on the dimerization of 4-Nitrothiophenol (4-NTP) to Dimercaptoazobenzene (DMAB) at the surface of various nanoscale metal geometries. It is an open question, how the plasmon-assisted generation of hot charge carriers influences this reaction in addition to non-equilibrium vibrational heat. In a broader setting, we have applied surface-enhanced Raman scattering to nanoscale metals of various shapes and compositions to demonstrate the effect of local field enhancement.