Werkstattgespräch im Zentrum "Sprache, Variation, Migration"
Universität Potsdam, 7. November 2012.
"
Varianz als Devianz: Anthropologie und Politik der Sprachvariation

"

Markus Messling: Einführung

Markus Lenz: "Die andere Seite der Questione della lingua: sprachlicher und sozialer Pluralismus bei Graziadio Ascoli"

Philipp Krämer: "Angst vor dem Verfall: Urteile über Kreolisch und Kiezdeutsch"

Ankündigung der Reihe PDF (ca. 480 KB)
"Transgressions: Pensée méditerranéenne versus penser les Méditerranées" Tagung des internationalen Forschungsprojekts "Transmed!"
Neapel, 3.-6. Oktober 2012
(gefördert vom DFJW; in Koop. mit dem Collège International de Philosophie Paris)
Tagungsorte:
Dipartimento di Filosofia "A. Aliotta", Università degli Studi di Napoli - Federico II;
Casina Vanvitelliana (Parco Vanvitelliano del Fusaro), Bacoli; Scocietà Nazionale di Scienze, Lettere e Arti in Napoli
Keynotes
Fabrizio Lomonaco (Università di Napoli-Federico II)
Il Consorzio "Civiltà del Mediterraneo" di Napoli
Franco Cassano (Università di Bari-Aldo Moro)
Il pensiero meridiano
Giuseppe Cacciatore (Università di Napoli-Federico II)
Penser les Méditerranées
Workshop-Reihe (Sommer 2012)
Reflexe und Reflexionen der Kreolistik
Die DFG-Nachwuchsgruppe "Philologie und Rassismus im 19. Jahrhundert" am Institut für Romanistik der Universität Potsdam lädt zu ihrer dritten Workshop-Reihe ein. Zwei Gast-Nachwuchswissenschaftler werden zu den historischen und gegenwärtigen Problemen der Reflexion über Kreolsprachen vortragen.
Vor den Sitzungen wählen die Vortragenden jeweils einen Schlüsseltext zur Lektüre, der in Auszügen auf der Homepage des Projekts zum Download bereitstehen wird. Auf der Basis der Texte erwarten wir uns wie in den bisherigen Workshopsitzungen intensive Gespräche.
Freitag, 29. Juni 2012 (09-12.00 Uhr)
Haus 19, Raum 0.29
Joseph T. Farquharson (University of the West Indies, St. Augustine / Trinidad):
"Language and the Origin of the Creole-Speaking Jamaican Species"
Im öffentlichen Diskurs über Sprache und Kreolisierung in Jamaika ist bis heute eine Hierarchisierung zwischen Kreolisch und Englisch spürbar. Dabei wirken Vorstellungen wie Entwicklungsunterschiede, grammatische "Armut" und vermeintliche Primitivität fort. Es wird zu diskutieren sein, inwieweit solche reflexhaften Vorstellungen bereits aus der wissenschaftlichen und populären Reflexion des 19. Jahrhunderts hervorgegangen sind, und welche gesellschaftlichen oder (sprach)politischen Probleme daraus bis heute entstehen.
(Vortrag und Diskussion finden in englischer Sprache statt.)
Grundlagentext zum Download PDF (ca. 500 KB.)
Montag, 09. Juli 2012, (09-12.00 Uhr)
Haus 8, Raum 0.50
Silvio Moreira de Sousa (Universidade do Porto / Portugal):
"Kreolisten in Portugal am Beginn einer neuen Disziplin"
Die portugiesischen Kreolisten Leite de Vasconcelos und Adolpho Coelho standen im späten 19. Jahrhundert in intensivem Kontakt mit dem Grazer Romanisten Hugo Schuchardt. An ihren Arbeiten und Korrespondenzen lässt sich diskutieren, wie sich die Kreolistik zu dieser Zeit institutionell herausbildete, wie die individuelle Situation der Wissenschaftler auf sie einwirkte und welche methodischen und epistemologischen Probleme ihr begegneten. So können Verbindungen hergestellt werden zu den großen Linien der heutigen Kreolistik.
Grundlagentext zum Download PDF (ca. 90 KB.)
Veranstaltungsort: Universität Potsdam, Am Neuen Palais
Politics of Interpretation: (Con)Text and Power
A Postgraduate Workshop co-organized by Institute of Romance Studies, University of Potsdam (DFG-Emmy Noether-Group "Philology and Racism"), and the School of English, the University of Hong Kong.
Venue: School of English, The University of Hong Kong
Themes & Questions
Knowledge is always bound to the epistemic conditions of its generation. These conditions are implicated in social, political, economic and historico-cultural processes and speak to issues of power and authority. They are central to the interpretation and critical analysis of complex cultural articulations, such as textuality and its linguistic reflections. Contextualizing knowledge is a crucial paradigm for postmodern humanities. Thus the success of a transcultural "future philology" – to borrow this term from Sheldon Pollock –, which consistently reflects on its own epistemological premises, depends on the ability to reevaluate and detect the impact of predetermined patterns shaping its focuses, methods and assertions.
Deconstructivism, discourse analysis, communication theory, and postcolonial studies offer an array of theoretical tools. They allow a critical approach to dynamics that both hide and exploit epistemological structures through strategies of decontextualisation and the reconceptualization of knowledge. Nevertheless, the question remains as to the extent to which structures of empowerment and asymmetries between and within philological praxis and discourses still compromise the transfer of information in what is called our "globalized world" .
The primary aim of this workshop is to facilitate intellectual exchange between research students from the two institutions, and promote discussion of diverse intellectual frameworks among academic staff and students. Papers take the form of the presentation of ideas from a key thinker or theorist (or an encounter between two theorists), and an explanation of why that theorist is important for ongoing research.
Speakers
Noël Christe (Hong Kong University): Discrepant norms: culture, ecology and indeterminacy in Victor Turner's anthropology of meaning
Wayne Cristaudo (Hong Kong University): Religion, Redemption, and Revolution: The New Speech Thinking of Franz Rosenweig and Eugen Rosenstock-Huessy
Christopher Hutton (Hong Kong University) and Markus Messling (University of Potsdam) : Bruno Latour's modernity. On (a)symmetrical anthropology and the language paradigm / Latour hanging out with the law and its objects
Philipp Krämer (University of Potsdam): The universal exception. Creoleness and creolization in language, culture, and text
Markus Lenz (University of Potsdam): Umberto Eco's epistemological paradox: Cultural references between bias and universal knowledge
Adrian Pablé (Hong Kong University): Deconstructing Rortian constructivism: against the ubiquity of language.
Tao Wei Yi, Kimberly (Hong Kong University): Structuring Foucault's Monstrousness in Transgendered People through Legal Classification
Jérémie Wenger (University of Oxford): Destitution of language: Alain Badiou on Wittgenstein
Zhang Ruihan (Hong Kong University): When Evolution Theory Meets Marxism: Vygotsky's Psychology of Abstraction in Postwar Russia
Zhou Feifei (Hong Kong University): Garfinkel's take on sociology: how is 'social order' produced and repaired?
Professor Pheng Cheah (University of California, Berkeley): School of English Graduate Workshop: "Of Other Worlds to Come"
Description, speakers and key text references PDF (ca. 68 KB)
Organizing Committee: Christopher Hutton (HKU), Markus Messling (Potsdam), Adrien Pablé (HKU)


Workshop-Reihe (Herbst/Winter 2011/12)
Wissensordnungen und Philologie im 19. Jahrhundert: Geschichte und Biologie
18.11.2011 (15-17.30 Uhr)
Cord Riechelmann (Philosoph und Biologe, Publizist):
"Hegelianismus und Evolutionsbiologie"
Grundlagentext zum Download PDF (ca. 3,2 MB.)
20.01.2012 (15-17.30 Uhr)
Dr. Georg Töpfer (Philosoph, Humboldt Universität zu Berlin):
"Der Rassebegriff in der Biologie"
Grundlagentext 1 zum Download PDF (ca. 300 KB.)
Grundlagentext 2 zum Download PDF (ca. 2,6 MB.)
Veranstaltungsort: Universität Potsdam, Am Neuen Palais, Haus 19, Raum 0.12.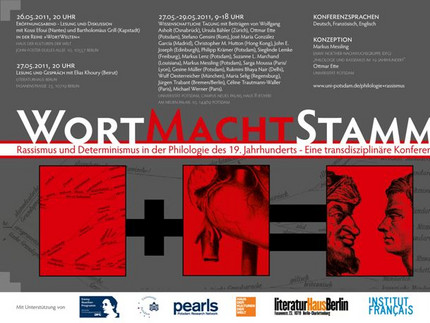 26. – 29. Mai 2011
Plakat zum Download PDF (ca. 3 MB)
Konzeption: Markus Messling, Ottmar Ette
Organisation: Markus Lenz, Philipp Krämer
Mit Unterstützung von: Deutsche Forschungsgemeinschaft, Universität Potsdam, PEARLS - Potsdam Research Network, Haus der Kulturen der Welt Berlin, Literaturhaus Berlin, Institut français
26. Mai: Eröffnungsabend im Haus der Kulturen der Welt:
Literatur und Rassismus - koloniale Vermessungen und narrative Gegenstrategien
Lesung und Diskussion mit Kossi Efoui und Bartholomäus Grill in der Reihe WortWelten
Gespräch: Markus Messling
Thema des Abends ist die Verstrickung der europäischen Literatur im Kolonialismus: Einerseits hat sie den zivilisatorischen Führungsanspruch Europas reproduziert, der eng mit anthropologischen Vermessungen der "Anderen" verbunden ist, andererseits zeichnet sich Literatur durch eine antideterministische Offenheit aus: Welche ethische Widerstandsfähigkeit erwächst der Literatur aus der Fähigkeit, Leben zu erzählen? Diesen Fragen und der kolonialen Macht der Beschreibung im Falle Afrikas gehen die Teilnehmer in Lesung und Diskussion nach.
Kossi Efoui floh aus politischen Gründen aus Togo und lebt heute in Nantes. Er arbeit als politischer Journalist für die Zeitschrift Jeune Afrique, ist Theaterregisseur und Schriftsteller. Zahlreiche literarische Auszeichnungen, darunter der Grand Prix Littéraire de l'Afrique Noire und der Prix des Cinq Continents de la Francophonie.
Bartholomäus Grill lebt in Kapstadt und ist Afrika-Korrespondent der ZEIT und Herausgeber der African Times. Von 2005-2009 gehörte er zum Afrika-Beraterkreis des Bundespräsidenten. Zahlreiche journalistische und literarische Auszeichnungen, darunter der Egon-Erwin-Kisch-Preis und der Wolfgang-Koeppen-Preis.
Haus der Kulturen der Welt, John-Foster-Dulles-Allee 10, 10557 Berlin
(Beginn: 20.00 Uhr)
Eintritt: 5 / 3 Euro
27. bis 29. Mai: Wissenschaftliche Tagung
Die Konferenz geht der Frage nach, wie die europäischen Philologien, also die Wissenschaften von den Sprachen und Texten, im 19. Jahrhundert zur Entwicklung des Rassismus beitrugen. Das Problem der Vermengung sprachlicher, schriftspezifischer und textkultureller Kategorien mit den kognitiven Fähigkeiten der Sprecher/Schreiber der eigenen und anderer Kulturen soll systematisch untersucht werden. Da der Rassismus kein nationales Phänomen gewesen ist und die Philologie im 19. Jahrhundert einen internationalen Denkraum darstellt, wird die Frage in einem größeren (außer-) europäischen Kontext behandelt. Eine zentrale Frage ist, ob der intellektuelle Machtanspruch Europas im 19. Jahrhundert unvermeidlich mit einer deterministisch und rassistisch veranlagten Philologie einhergeht oder ob sich philologische Resistenzen zu diesem Paradigma finden lassen.
Mit Beiträgen von Wolfgang Asholt (Osnabrück), Ursula Bähler (Zürich), Ottmar Ette (Potsdam), Stefano Gensini (Rom), José María González García (Madrid), Christopher Hutton (Hong Kong), John E. Joseph (Edinburgh), Philipp Krämer (Potsdam), Sieglinde Lemke (Freiburg), Markus Lenz (Potsdam), Suzanne Marchand (Baton Rouge), Markus Messling (Potsdam), Sarga Moussa (Paris/Lyon), Gesine Müller (Potsdam), Rukmini Bhaya Nair (New Delhi), Wulf Oesterreicher (München), Maria Selig (Regensburg), Jürgen Trabant (Berlin/Bremen), Céline Trautmann-Waller (Paris), Michael Werner (Paris).
Programm-Flyer mit Vorträgen und Zeitablauf PDF (ca. 3,6 MB)
Universität Potsdam, Campus Neues Palais, Haus 8, Foyerräume 0.60 / 0.61
(9.00 Uhr - 18.00 Uhr)
27. Mai: Lesung und Diskussion im Literaturhaus Berlin:
Literatur und Zusammenleben
mit Elias Khoury
Gespräch: Ottmar Ette
Wie kaum ein anderer Ort wird der Nahe Osten in seiner politischen Realität von identitätspolitischen Fragen erschüttert. Koloniales Erbe und Besatzungspolitiken kreuzen sich dabei in vielfältiger Weise. Ethnische Politik und kriegsbedingte Vertreibung sind Phänomene, mit denen sich der libanesische Schriftsteller Elias Khoury immer wieder auseinandergesetzt hat. Welche Bedeutung kommt Literatur in diesen Konstellationen zu? Gibt es eine spezifische Resistenz des Literarischen, in der Möglichkeiten des Zusammenlebens aufscheinen?
Elias Khoury ist einer der herausragenden Schriftsteller und Intellektuellen der arabischen Welt. Sein Buch "Das Tor zur Sonne" wurde mit dem Palästina-Preis ausgezeichnet, weltweit übersetzt und verfilmt. Er ist Herausgeber der Kulturbeilage der Beiruter Tageszeitung "An-Nahar" (Der Tag) und Global Distinguished Professor der University of New York. Zur Zeit ist Elias Khoury Gast des Wissenschaftskollegs zu Berlin.
Fasanenstraße 23, 10719 Berlin
(Beginn: 20.00 Uhr)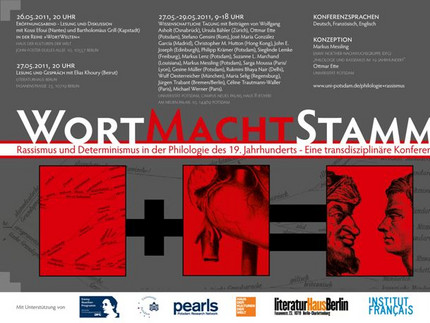 Workshop-Reihe (Herbst/Winter 2010/11)
Philologie und Rassismus im 19. Jahrhundert
19.11.2010 (15-17.30 Uhr)
Jürgen Trabant (JU Bremen / FU Berlin):
Friedrich Schlegel: "Über die Sprache und Weisheit der Indier"
03.12.2010 (15-17.30 Uhr)
Marcel Lepper (Deutsches Literaturarchiv Marbach):
Friedrich Nietzsches Quellenphilologie und der Rassendiskurs um 1870
Zum Textdownload PDF (19 MB)
21.01.2011 (15-17.30 Uhr)
Sarga Moussa (CNRS):
La hiérarchie des races et des langues chez Gobineau.
Une doctrine et ses paradoxes
04.02.2011 (15-17.30 Uhr)
Céline Trautmann-Waller (Paris III - Sorbonne Nouvelle):
August Friedrich Potts Kritik an Gobineau
Zum Textdownload PDF (5,5 MB)
Veranstaltungsort: Universität Potsdam, Am Neuen Palais, Haus 19, Raum 1.19.4.22.