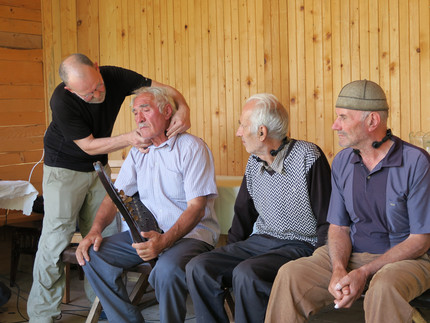 Honorary doctorate awarded to Prof. Dr. Frank Scherbaum
Already in July 2022, the internationally renowned State Conservatory of Georgia awarded an honorary doctorate to the former Chair of General Geophysics at the Institute of Geosciences, Frank Scherbaum. This high distinction recognises his research on traditional Georgian vocal music (world cultural heritage) using methods "borrowed" from seismology. The project has been funded by UP-Transfer since 2015 and since 2017 additionally by the DFG (a project of the German Research Foundation together with Meinard Müller from the Audio-Labs at the University of Erlangen - Link: https://www.audiolabs-erlangen.de/fau/professor/mueller/projects/gvm).
During the research, a method developed by Frank Scherbaum and Daniel Vollmer for recording singing voices by means of vibration measurements of muscle vibrations on the neck (quasi "seismology on the human body") proved to be central to the computer-assisted analysis of singing voices. Using this method, the scientists were able to solve the long-time problem of experimental ethnomusicology - namely the separation of voices of singers of polyphonic music - in a very simple way. In this way they achieved a whole series of very exciting scientific results (see https://www.uni-potsdam.de/de/soundscapelab/), which were able to extend the very young field of research of "computational ethnomusicology" to traditional Georgian vocal music.