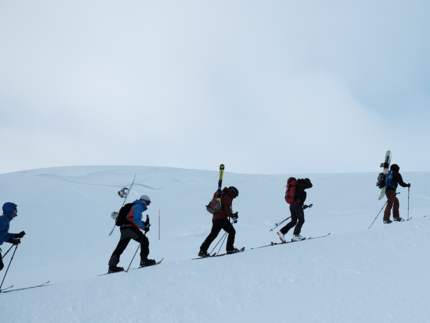 Task Force Avalanche (Austria/Italy)
On the 28th of December 2019, a large avalanche buried several skiers in the Schnals valley, South Tyrol. Three German ski tourist were fatally injured. In the framework of a NatRiskChange Task Force, our two PhD students Erwin Rottler and Lena Katharina Schmidt compiled and summarized the widespread media coverage, described the accident based on available media and avalanche reports, assessed past and present changes in avalanche risk in the European Alps, visited the site of accident together with colleagues from the University of Innsbruck and analyzed measurement data from a nearby climate station with regard to wind-driven snow redistribution. The field trip included a combination of practical and theoretical teaching units on snow research and avalanche awareness.
The full report of this NRC task force is available in form of a shiny dashboard at http://natriskchange.ad.umwelt.uni-potsdam.de:3838/avalanche/ .