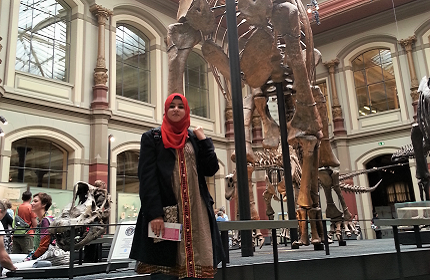 "I will keep working on research and teaching in the university. Therefore, I will improve myself in modern and top scientific methods at the molecular biology and animal behavior. In addition it will promote the very interesting evolutionary and conservation research. Moreover, I am looking to publish my research and transfer this knowledge to my students and colleagues who are engaged in the same field of study in my country. I will keep conducting scientific research as I am convinced that; a scientist's journey has no end."
Noon Bushra Eltahir
Age: 33 | Nationality: Sudanese | Field of study / work: Animal Behavior and Molecular Biology (PhD candidate)
My favorite place in Potsdam/ Berlin / surroundings:
Germany has many beautiful places to visit. I was amazed by the beautiful landscapes and the architectures of the historical places especially in Potsdam.
In Berlin: The Museum of Natural History, Brandenburg Gate, Berlin Wall and Zoo are the most attractive places I have ever visited.
The most surprising thing about Germany?
The uniqueness of the community and culture here. People are kind and always ready to help. In Germany, you can find people from different nationalities. This diversity gives people the chance to get exposed to different cultures and traditions. Especially during the pandemic of coronavirus, I realise that the society deals with it in a serious manner. People are well organized, united and committed to rules.
My advice for fellow scholars:
Laboratories, instruments and up to date references are within your hands. Hence you are here for a limited period of time; you can get the most out of all these facilities available for you. Moreover, you have to be patient with all the circumstances you might face and try to learn German language.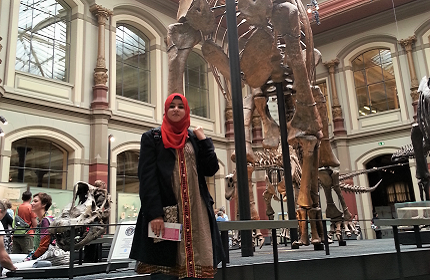 "I will keep working on research and teaching in the university. Therefore, I will improve myself in modern and top scientific methods at the molecular biology and animal behavior. In addition it will promote the very interesting evolutionary and conservation research. Moreover, I am looking to publish my research and transfer this knowledge to my students and colleagues who are engaged in the same field of study in my country. I will keep conducting scientific research as I am convinced that; a scientist's journey has no end."