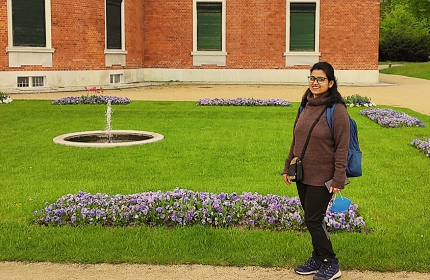 "The most surprising thing about Germany which I appreciate is Women safety. I really like the fact that I can travel here alone at midnight."
Poulami Roy
Age: 28 | Nationality: Indian | Field of study / work: Geophysics, Geodynamic modeling
My favorite place in Potsdam/ Berlin / surroundings:
My favorite places include Cecilienhof park, Alter Markt in Potsdam and of course Indian stores in Berlin where I can have green and red hot chilies. :-)
My advice for fellow scholars:
Learn to live alone. The more you rise up in your life, the more you will be alone. Just do your work but expect less. It is okay to be alone, but never feel lonely. Do a lot more networking and ask questions. There is no lame question. So, do not be shy and keep moving.
My future plans:
I have started my PhD this year. So, I am now building the model setup as I am working on numerical modeling. I hope to showcase my work in different conferences and get some feedback from fellow researchers. Finally, I really wish to publish my work in some good journals.
Where were you during the first months of the pandemic?
I have been in my home country India when the pandemic first started in March 2020. There was a strict lockdown and I spent my time with my parents at home.
How did the lockdown affect your (professional) life?
Due to the lockdown, my arrival in Germany got delayed. Even after arrival, I was working from home for 4-5 months. I guess the initial period of PhD requires day to day meetings with supervisor and fellow students to get the idea about the research project, how to practically write code and do the simulation. But I barely met people due to the lockdown. So, my work has slowed down. Apart from work, it creates a lot of mental pressure when you just arrive a new country and get yourself locked in a room for several months. When I came in January, the banks, city registration office all were closed/ or working with skeleton staffs. So, it was really difficult for me to pay my rent, but somehow with the help of my supervisor that was managed. So, yes, lockdown has a huge impact in my life.
Was there also a positive outcome for you during these months?
Yes, of course. One can only bear these months if he/she has a very positive outlook. I can spend more time in cooking as I can't cook before coming to Germany. Through these days, I started to learn how to live alone and how to take care of myself on my own. As the supermarkets were always open, I got the opportunity to explore German veggies, sausages and drinks which were really new to me and exciting as well.
Is there anything you are appreciating more now?
After going through the period of pandemic since 2020, I realized it is very important to spend more time with family or at least keep in touch with them. It gives you and your family mental stability. I do appreciate all the volunteers and doctors who came forward to serve people in this harsh time.
Do you have any idea or suggestion for our community/what we could do in this time?
It is very important to keep our community motivated in this time. My suggestion is to organize frequent zoom meet-ups where senior PhD fellows can present their work. Since there are some relaxations of COVID related rules now, introducing in person workshops will be very useful for the research students. Most importantly, research fellows have lost significant amount of time due to this pandemic, so, it is very necessary to extend the period of fellowship/scholarship in order to retrieve our work.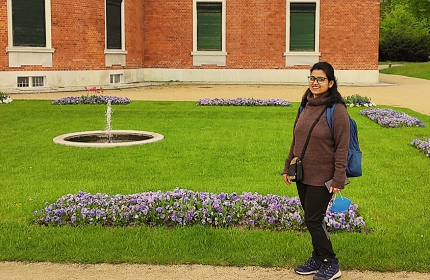 "The most surprising thing about Germany which I appreciate is Women safety. I really like the fact that I can travel here alone at midnight."