Why Use Computational Approaches To Study Traditional Georgian Music?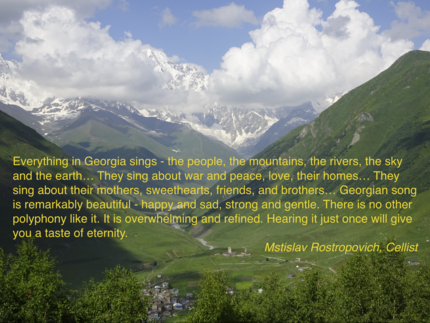 The rich Georgian musical heritage, expressed so exquisitely in its traditional polyphonic singing, has since long attracted the attention of music lovers and musicologists. Research on the Georgian traditional music has a long and successful tradition (Tsurtsumia and Jordania, 2010). Following the designation of Georgian polyphonic singing as one of the masterpieces of the Oral and Intangible Cultural Heritage of Humanity by UNESCO in 2001 and the establishment of the bi-annual International Symposia on Traditional Polyphony in 2002, the international attention and research on Georgian traditional music has also been growing considerably. As a consequence, Traditional Georgian Vocal Music is now a very active area of research, nationally as well as internationally.
In recent years we have been seeing a revolution in how computer technology changes the way we live and interact with the world around us. Computer algorithms are able to extract information about us from our internet activities which is mind-blowing, exciting and scary at the same time. Computer algorithms are also changing the way in which we can make, perceive and analyse music. Not surprisingly, these changes have also started to influence ethnomusicology and have let to the emergence of a new field of science called "Computational Ethnomusicology" (cf. Tzanetakis et al., 2007; Gómez et al., 2013; Tzanetakis, 2014).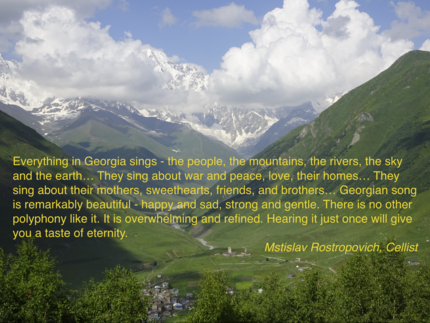 In 2017, Frank Scherbaum was part of an international group of roughly 30 researchers from very different disciplines (musicologists, ethnomusicologists, historians, a philosopher, computer scientists, etc..) which gathered for a whole week at the Lorentz Center in Leiden/NL to discuss how computational methods could help ethnomusicological research.
Within the SeismoSoundScape-Lab, we are convinced that new technologies and computational methods can be very useful for ethnomusicological research of Traditional Georgian music. Not as a replacement to classical approaches, but as a complementary perspective! Computational ethnomusicology is a perfect research field in which passion for science can be combined with love for music. The following sections selectively touch upon some of the specific fields of research on Traditional Georgian music where we feel that computational approaches might have something to offer.
References:
Tsurtsumia, R. and J. Jordania (2010). Georgian polyphony in a century of research: forward by the editors. in Echoes from Georgia. Seventeen arguments on Georgian polyphony. Nova Science publ. Inc.
Tzanetakis, G., Kapur, A., Schloss, W. A., & Wright, M. (2007). Computational Ethnomusicology. Journal of Interdisciplinary Music Studies, 1(2), 1–24. doi.org/10.1080/17459730701375026 
Gómez, E., Herrera, P., & Gómez-Martin, F. (2013). Computational Ethnomusicology: perspectives and challenges. Journal of New Music Research, 42(2), 111–112.
http://doi.org/10.1080/09298215.2013.818038
Tzanetakis, G. (2014). Computational ethnomusicology : a music information retrieval perspective. Proceedings ICMC|SMC|2014, (September), 69–74.