Jewish Activism Summer School
Timeframe:
29 July – 18 August 2019
held as a full-time program
Fees:
800 Euro EU citizens
1,200 Euro non-EU citizens
Fees cover lectures, workshops, tours, housing, and some meals (for instance, on sabbath/shabbat).
Scholarships:
Scholarships are available based on need. Please inquire for more information: jassinfo

u

uni-potsdam

p

de
About JASS
The Jewish Activism Summer School meets for 3 weeks each August in Berlin. JASS accepts participants in their 20s and 30s from around the world. An exceptional international cadre of instructors offers seminars on traditional Jewish texts, the history of Jewish activism, trainings in skills and methods (for example, complex systems theory, deep democracy or non-violent communication). Using Berlin as an open classroom and historical and political case study, we meet successful and innovative local organizations and individual activists and social entrepreneurs to learn about strategies, best practices, leadership models, including learning from failure.
Past examples have included Transparency International, Bürger Energie, Dokumentations- und Kulturzentrum Deutscher Sinti und Roma, Shai Hoffmann and the Bus der Begegnungen, Kreuzberg Initiativ gegen Antisemitismus and Prinzessinengarten Berlin.
Timeframe:
29 July – 18 August 2019
held as a full-time program
Fees:
800 Euro EU citizens
1,200 Euro non-EU citizens
Fees cover lectures, workshops, tours, housing, and some meals (for instance, on sabbath/shabbat).
Scholarships:
Scholarships are available based on need. Please inquire for more information: jassinfo

u

uni-potsdam

p

de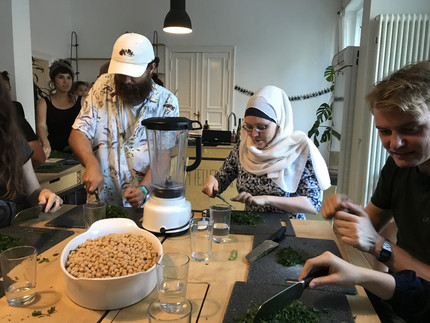 Participants also make excursions to important, relevant local sites. JASS is particularly interested in efforts that change systems in order to prevent problems in the first place rather than patch up existing problems post facto. JASS emphasizes holistic thinking, bringing into dialogue interdisciplinary cutting-edge knowledge and ancient wisdom; political activism and spiritual awareness; study and action; the self and the collective; Jewish and non-Jewish approaches. Housing and scholarships are provided for those who need them.
Curriculum
JASS integrates seminars, workshops, text study, discussions, group study; visits to outside organizations engaged in social and environmental work; fieldwork/participation in projects, group reflection on visits. Optional programing includes outdoor excursions, cultural activities, religious services.