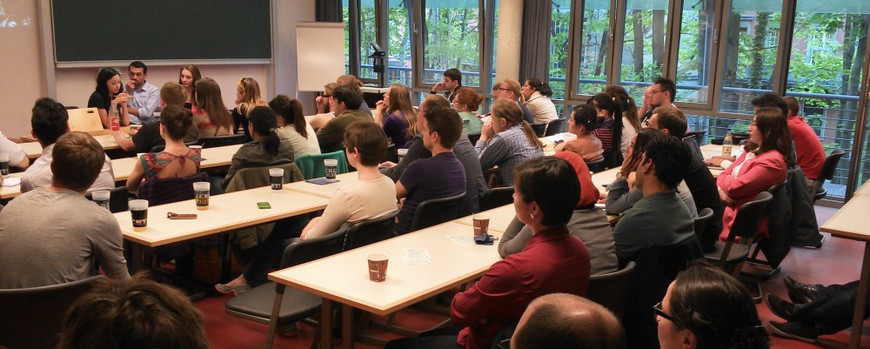 The idea to establish a Global Café as a common activity of the Faculty of Economic and Social Sciences and the Potsdam Center for Policy and Management, Master of Public Management, was born in the winter semester 2013/2014. The main objective is to sensitize the members of the Faculty for international issues and to strengthen an inter-cultural atmosphere. The national and international students and staff-members should get a good frame for coming together, for communication and for discussing special topics and issues. Because of the problem of space – a room for a Global Café -, we decided to start at first with a couple of discussions about actual problems in the international political context. These events have met with good response.
You are interested in international politics and want to learn about political and social issues in the home countries of our international students? This December the Global Café returns! Like in previous years students from all around the world will talk about selected topics.
Taking place as an online format, the subject of this years edition will be:
Covid-19 management from the perspective of France and Russia (December 8, 2021)
Join the event and contribute to an exciting discussion!
https://uni-potsdam.zoom.us/j/61885982321
Meeting-ID: 618 8598 2321
Kenncode: 02782031
In case you have any questions regarding this event, please don't hesitate to send us an email.
Sören Freisem (sowitutoruuni-potsdampde)
Daniel Zingel (wiwitutoruuni-potsdampde)
Migration from the perspective of Turkey
Speaker: Seyhan Kantar
Moderator: Sören Freisem und Daniel Zingel
Date: 20. Juni 2021
The abortion ban in Poland
Speaker: Dominika Matusz
Moderator: Sören Freisem und Daniel Zingel
Date: 24. Juni 2021
Covid-19 and the EU- European economic recovery plan
Speaker: Mirsada Ceraj
Moderator: Sören Freisem und Daniel Zingel
Date: 24. Juni 2021
The situation in Sheikh Jarrah, East Jerusalem. Background and current situation
Speaker: Zeinah Kamel
Moderator: Sören Freisem, Daniel Zingel, Prof. Dr. Mackert, Amit Gilutz, und Batoul Abu-Yahya
Date: 1. Juli 2021
Guadeloupe. European and Carribean Region?
Speaker: Nicolas Parvin
Moderator: Egor Bobrov, Tutor UP
Date: 7. Juli 2020
Syria: White & Black. A sun that was drowned
Speaker: Khaled Urfa (UP) und Khaled Khudr (FU Berlin)
Moderator: Egor Bobrov, Tutor UP
Date: 7. Juni 2019
Belt and Road Initiative: New Round of Chinese Open-Up Policy and its Impact on Globalization
Speaker: Prof. Dr. Shiwei Shi and Prof. Dr. Junhua Zhang (PR China)
Moderator: Prof. Dr. Wilhelm Bürklin
Date: 13. June 2017
The Argentinian military dictatorship of 1976
Speaker and Moderator: Lucia Viscuso
Date: 18. July 2016
Anti-Gay laws in Uganda
Speaker and Moderator: Obed Kambasu (Uganda)
Date: 4. July 2016
Journalists: Villains or Allies for Social Sciences?
Speaker: Juan Mayorga (Mexiko) & Rico Grimm (Deutschland)
Moderator: Ms Stefanie Arndt
Date: 27. April 2015
Development through Empowerment: 'Successes and Challenges?
Speaker: Kave Bishogo (South Afrika) & Ulrike Haupt (Ethiopia)
Moderator: Mr Alexander Knoth
Date: 15. December 2014
Drone Wars
Speaker: Amna Yamin (Pakistan), Thomas McGath and Hjalmar Breit (both USA)
Moderator: Dr. Ulrike Lorenz-Carl
Date: 14. July 2014
Wohin geht die Ukraine? Probleme und Perspektiven für einen friedlichen Weg nach Europa
Speaker: Olha Papach, Volodymyr Kokhan, Nataliia Nikitiuk (all Ukraine)
Moderator: apl. Prof. Dr. Jochen Franzke
Date: 28. April 2014