Plant development and stress adaptations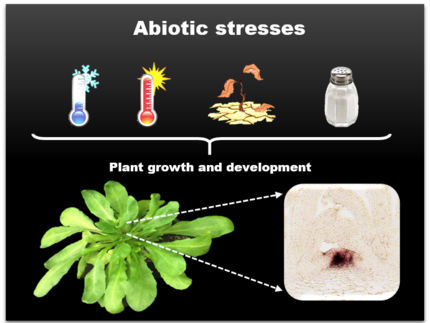 The main focus of Dr. Justyna Olas' group is to understand how plants adapt their development to fluctuating conditions in the environment. In particular, we are studying the molecular mechanisms underlying the developmental adaptations of plants, with a focus on the shoot apical meristem (SAM), to abiotic stresses, using the model system Arabidopsis thaliana and the vegetable crop Solanum lycopersicum (tomato).
We aim to unravel how the information about various stresses, including heat and salinity stress, is sensed by the SAM of both species and integrated into the transcriptional regulatory networks controlling those processes.
The general aim is to understand how the SAM is responding and adapting to environmental changes. In plants, the SAM, which includes a small number of stem cells, continuously forms above-ground organs and provides developmental flexibility allowing plants to adapt their development to changes in the environment. Like other organs, the SAM is exposed to diverse and often life-threatening environmental stresses. However, the knowledge of how the SAM and stem cells respond to stressful environments to maintain their structural and functional integrity remains scarce. The notion that the SAM has competence to adapt to environmental stresses to maintain shoot growth is supported by recent studies from our lab showing that nutrient metabolism is operative in the non-photosynthetic SAM of Arabidopsis thaliana plants under stress, and that the SAM can sense and adaptatively respond to low carbon and nitrate levels, and to high temperature.
Our group uses a comprehensive set of cutting-edge technologies including, besides others, molecular biology, genetics and genomics, RNA in situ hybridization, whole-mount in situ hybridization, laser confocal microscopy, and RNA-seq. We are located in the Institute of Biochemistry and Biology of the University of Potsdam, in the Department of Molecular Biology headed by Prof. Bernd Mueller-Roeber.
For more information contact Dr. Justyna Olas.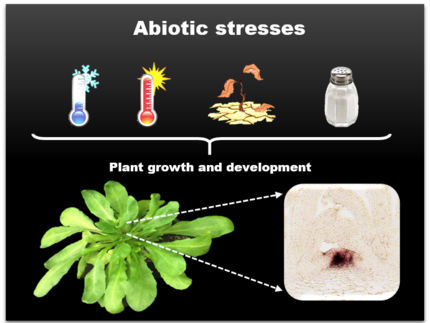 If you are interested in joining our lab as a PhD student or postdoc, please contact Dr. Justyna Olas by sending your CV and a letter of motivation detailing your interest in our work. There are frequent possibilities for applying for fellowships through EMBO, Marie Sklodowska Curie, DAAD, IMPRS calls, etc. Please consider contacting us early enough before the submission deadlines so that we can together plan a suitable research project.
If you are interested in joining our lab as a bachelor or master student, please contact Dr. Justyna Olas (olasuni-potsdamde) or Dr. Katrin Czempinski (katrin.czempinskiuni-potsdamde). We continuously have topics for master and bachelor thesis projects available.
S. John, J. Olas, B. Mueller-Roeber, Regulation of alternative splicing in response to temperature variation in plantsJournal of Experimental Botany (2021)
Fichtner F., Olas J.J., Feil R., Watanabe M., Krause U., Stitt M., Lunn J.E., Features and functions of TREHALOSE 6-PHOSPHATE SYNTHASE1 – an essential enzyme in Arabidopsis thaliana. The Plant Cell (2020)
Olas J.J., Fichtner F., Apelt F., All roads lead to growth: imaging-based and biochemical methods to measure plant growth. Journal of Experimental Botany (2020)
Olas J.J., Wahl V., Tissue specific NIA1 and NIA2 expression in Arabidopsis thaliana. Plant Signaling & Behavior (2019)
Yang L., Perrera V., Saplaoura E., Apelt F., Bahin M., Kramdi A., Olas J.J., Mueller-Roeber B., Sokolowska E., Zhang W., Li R., Pitzalis N., Heinlein M., Zhang S., Genovesio A., Colot V., Kragler F., m5C methylation guides systemic transport of messenger RNA over graft junctions. Current Biology (2019)
Olas J.J., Van Dingenen J.,Abel C., Dzialo M.A., Feil R., Krapp A., Schlereth A., Wahl V., Nitrate acts at the Arabidopsis shoot apical meristem to regulate flowering time. New Phytologist (2019)
Omidbakhshfard M., Fujikura U., Olas J.J., Xue G.P., Balazadeh S., Mueller-Roeber B.,Growth-regulating factor 9 negatively regulates Arabidopsis leaf growth by controlling ORG3 and restricting cell proliferation in leaf primordia. PLoS Genetics (2018)
Apelt F., Breuer D., Olas J.J., Annunziata M. G., Flis A., Nikoloski Z., Kragler F., Stitt M., Circadian, carbon, and light control of expansion growth and leaf movement. Plant Physiology (2017)
Lauxmann M. A., Annunziata M. G., Brunoud G., Wahl V., Koczut A., Burgos A., Olas J.J., Maximova E., Abel C., Schlereth A., Soja A., Bläsing O. E., Lunn J. E., Vernoux T., Stitt M., Reproductive failure in Arabidopsis thaliana under transient carbohydrate limitation: flowers and very young siliques are jettisoned and the meristem is maintained to allow successful resumption of reproductive growth. Plant, Cell & Environment (2016)
Related running projects
PlantaSYST

The Department is involved in the PlantaSYST project. PlantaSYST receives funding from EU Horizon 2020 SGA-CSA No664621 and No739582 under FPA No.664620.

CPSBB

PlantaSYST is contributing to the establishment of the Center of Plant Systems Biology and Biotechnology (CPSBB).

PlantaSYST Videos

Find out more about the project.