Programme: Master of Arts in Educational Science | StO 2009
---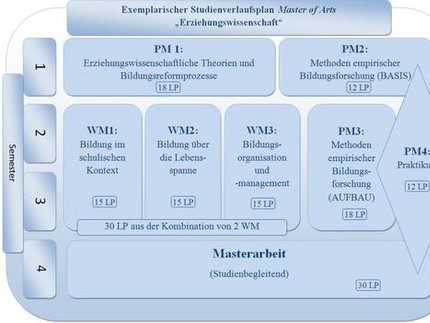 Information on the Degree Programme
In the Master's in Educational Science, you will deal with educational theories as well as processes of educational reform. Closely linked to this will be an in-depth study of concepts and methods of empirical educational research. Quantitative and qualitative research methods include, for example, sampling methods, video analysis, as well as document and content analysis.
Content of the Programme
The master's programme comprises an in-depth academic study of selected fields of research and qualifies students to analyse complex issues in the educational sciences and to design educational processes within social contexts. It prepares students for management roles in the field of education as well as for research work.
Study Aims
The Master's in Educational Science is predominantly research-oriented and, within the framework of compulsory elective modules, aims to give students the ability to deal theoretically and empirically with issues in the educational sciences and to scientifically evaluate educational processes in institutions and organisations. This second degree in the field of educational science qualifies students to analyse educational problems on the basis of the current state of research and to help shape developments in the education system in an informed manner, thus enabling them to work in research institutions.
Future Career Options
Building on the foundation of knowledge gleaned in the bachelor's degree programme, students' competences will be further developed in the Master's in Educational Science in analytical, research-oriented and professional directions. The competences acquired in the Master's in Educational Science prepare students for a range of conceptual, planning and managerial roles.
The degree programme enables students to specialise in the following areas:
The acquisition of competences in:

Learning in and out of school
The design and decision-making involved in educational pathways
The organisation of educational institutions
Course of Studies
The Master's in Educational Science follows directly on from the bachelor's programme's framework and is modular in design. Graphic representation of the course of Study
During the compulsory work placement, students will acquire:
Competences in working in academic fields and educational administration
Competences in reflecting on practice
Competences in assessing the relationship between 'theory and practice'
The content of the work placement is a practical field relevant to the educational sciences and related to one of the two selected compulsory elective modules.
Structure of the Programme
The Master's in Educational Science is a single-honours degree programme, comprising 120 credit points (Leistungspunkte or LP's) including the master's dissertation. The standard period of study for the master's programme is four semesters (over two years), including the time required to complete the master's dissertation.
Modules
Compulsory Modules
PM1 Theories of Educational Science and Educational Reform Processes
PM2 Methods and Concepts of Empirical Educational Research – 'FOUNDATION'
PM3 Methods and Concepts of Empirical Educational Research – 'ADVANCED'
PM4 Work Placement
Compulsory Elective Modules
WM1 Education in the Context of School
WM2 Lifelong Education
WM3 Educational Organisation and Management
Competences for Study
Confidence in English, spoken and written.
Admission Requirements
a) A bachelor's degree in 'Educational Science' from a university or equivalent institution in the Federal Republic of Germany, or
b) A bachelor's degree in another subject, of at least three years' duration, in which the required competencies of a bachelor's programme in educational science, based on (a), have been achieved to an equivalent of 60 credits (LP's), or
c) A degree equivalent to (a) or (b) from a higher education institution outside of Germany. In the case of foreign applicants, sufficient German language skills must be proven by providing relevant certificates.
d) The ability to prove that you have achieved 10 credit points (LP's) in scientific research methods. These can be acquired within the framework of the bachelor's degrees referred to in (a), (b) and (c).
Admission / Application
Please apply at: https://www.uni-assist.de/online/uni-potsdam/index.php
Further information on the master's programme and the application process can be found on the website of the Central Student Advisory Service: www.uni-potsdam.de/zugang/abschluss_master.html
For all further subject-specific information on the Master's in Educational Science, please refer to the Admission Regulations for the Master´s in Educational Science and for the Bachelor´s and Master´s in Educational Science